Archive for May, 2011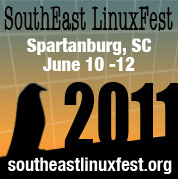 Linux for the GNU South – Attend if you can.
A lot has been written on GNOME 3 and, truth be told, I don't have the digital horsepower (yet) to run GNOME 3 to give an adequate assessment. I think I get what they're trying to do and, to be honest, I'm not sure I agree with the direction GNOME is taking here.
Juan Rodriguez is taking the proverbial bull by the horns and has initiated a project called BlueBubble, which marries GNOME 2.32 to the newly released Fedora 15, "breaking the least amount of packages possible."
What it does, essentially — or at least in Rodriguez's opinion — is bring the best of both worlds: Fedora 15 plus the latest version of GNOME before 3.0. The future, he says, can wait.
Rodriguez says that the target audience is the same kind of people who wanted the "Old Coke" to come back when Coca-Cola introduced "New Coke" unsuccessfully decades ago.
He's also seeking help on this, so if you're really enamored with GNOME 2.32 and want to see it continue on the Fedora 15 and Fedora 16 versions, contact him — he can be found in many of the Fedora channels on Freenode IRC as "nushio"
Not only this, they already have a cool logo and video.
Go for it, Juan!
(Larry Cafiero is an associate member of the Free Software Foundation. He is also one of the founders of the Lindependence Project.)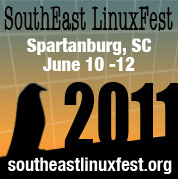 Linux for the GNU South – Attend if you can.
During the course of running the beta for Fedora 15 KDE — Fedora 15 is out now, by the way, and you can get this outstanding release here — I had many problems with connectivity on some hardware running the beta, which forced me to look at alternatives.
It's not that I wasn't filing bug reports — I was — but I know enough about my abilities to realize that any contributions I might make to solving the problem would be outweighed by the fact that I'd clearly be in the way were I to try to fix them. Someday that may not be the case, but until then I let those with the heavier developer chops fix the big stuff and I'll just be over there bowing in homage.
Be that as it may, for several days the Fedora KDE folks were trying to overcome a NetworkManager fiasco which, as far as I could tell as an innocent bystander, stemmed from the Fedora Project's "GNOME 3 uber alles" focus in Fedora 15. During that time, I took another Fedora-based distro for a few laps.
Kororaa Linux 14 Beta 6, code named Nemo, was — and still is — a pleasant surprise.
Once a Gentoo-based distro that went into hiatus in 2007, Australian Chris Smart brought it back to life on Christmas 2010, basing it on Fedora. Why Fedora? Says Smart: "Essentially, Kororaa has been reborn as a Fedora remix, inspired by Rahul Sundaram's Omega GNOME remix. It aims to provide all general computing uses out of the box and it aims to include software packages that most users will want."
Smart and the other contributors at Kororaa hit the mark; in fact, the Kororaa team hits the bullseye in providing a distro with packages that just work out of the box. With the distro based on Fedora 14, it has a solid foundation from which to build, and the Kororaa team has built a solid operating system that those who.
There is an attention to detail balanced by a degree of whimiscal outlook in this distro. First off, the name itself is a variation of the Maori korora, meaning "little penguin." Focusing on the new user, there are eye-candy features, like the rotating desktop which, for those of us in the AARP set, may be a little disconcerting. One thing I particularly liked — and I'm a sucker for stuff like this — is a default in the terminal that provides color characters. Nice touch.
Running on a ThinkPad R32, Kororaa handles everything I throw at it in typical Fedora fashion — with a "thank you, sir, may I have another?" ability and enthusiasm. Not once did the hardware complain or did programs fail under the trials.
Kororaa has a huge potential to grow to be a player on the Linux scene, and Smart and the Kororaa community can go places with Kororaa should enough people get on board and contribute. Count me in. I see a happy and healthy future for the little penguin.
For more information on Kororaa Linux, go here. To download Kororaa, go here.
(Larry Cafiero runs Redwood Digital Research in Felton, California, and is an associate member of the Free Software Foundation. He is also one of the founders of the Lindependence Project.)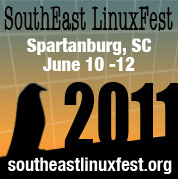 Linux for the GNU South – Attend if you can.
During her visit to Budapest where she was part of the Ubuntu Developers Summit, Linux Pro's associate publisher Rikki Kite posted this on Facebook:
"My geeky friends who pronounce 'gnome' as 'ga-nome' and 'gnu' as 'ga-new' might appreciate this -> I saw gnocchi on the buffet at UDS and said, 'Oh, good, ga-no-kee.' I ka-new it sounded wrong as soon as I said it."
To which I reply to Rikki: You mean that's not how you pronounce it?
Personally, I blame Richard Stallman. It's an affliction that affects geeks on our side of the proverbial aisle: The "G" factor, where a normally silent letter gets pressed into phonetic service, well, for a couple of reasons. First, because it's there (and from an engineering standpoint, why would it be there if it wasn't going to be used?), and secondly, because we're used to the fact that GNU and GNOME have the "g" — how can I put this? — unsilent, and we've been trained, or brainwashed, into putting the "g" in there where it doesn't belong.
It's bad enough the little guys in the garden are guh-nomes — even after the recent movie "Guh-nomeo and Juliet" — but there are other places where this arises.
For example, I had to wail and gnash — pronounced guh-nash, right? — my teeth at the various grammatical and spelling errors (not to mention the Giants blowing a four-run lead to the Dodgers) while working at the paper last night.
Surfers in the area, as well as elsewhere, consider things "gnarly" without the "g" sound; except some in Santa Cruz who also use Linux/FOSS and say "guh-narly," dude.
To say nothing of the fact that we have no pesky gnats — yep, there's a "g" in there, making it guh-nats — flying around in these parts, but I used to have to deal with them elsewhere.
Anyway, while there may be a cure for this, or at least a 12-step program ("I'm Larry, and I'm a G-oholic" — "Hi, Larry"), I think the better course of action would be to alert the non-geeks around you that you're going to be using all the letters in the words you use, save for the silent "e" and the silent "k" in "kn-" words.
(Larry Cafiero runs Redwood Digital Research in Felton, California, and is an associate member of the Free Software Foundation. He is also one of the founders of the Lindependence Project.)


Categories:

Facebook, GNOME, GNU, GNU/Linux, Linux Pro Magazine, Ubuntu, Uncategorized
GNOME, GNU, GNU/Linux, linux, Linux Pro Magazine, Rikki Kite