Archive for June, 2011
During my campaign for Insurance Commissioner of California in 2006 — where I just missed being elected to state office by a mere 46.5 percent of the vote — one of my campaign fundraising materials was a handout with a sandwich on it. It said, in effect, that if you give up one of these a week and send the money — $5 per week, in this case — to the campaign, you could have proper representation in Sacramento.
[It should be noted that, as a Green Party candidate, I did not take corporate campaign donations -- not that any were forthcoming -- so I needed a lot of sandwiches to mount an effective campaign. Thank goodness for FOSS, since I didn't have to buy any software, but that's another story.]
Yesterday's blog item about the Ubuntu earrings that are being used as a fundraiser for Partimus started me thinking about how some people shy away from donating to groups or, in our case, FOSS projects because they think it takes a lot up front.
Nope, it doesn't have to. It takes one sandwich at a time. Or coffee. Or dessert. Giving up one of these just once a week, multiplied by a significant number of people, can put some well-deserved projects in some pretty good financial shape.
It's very simple — instead of having that grande iced mochajavafrappamacchiato at Starbucks today, send the money via PayPal to a FOSS project that you use regularly, as a way of saying, "Thanks."
Give to Partimus, the project that is putting Linux-based computer labs in low-income schools in Northern California (or buy a pair of earrings). Or the HeliOS Project, since "a child's exposure to technology should never be predicated on the ability to afford it."
Like GIMP? Give to them here. Don't like it? Give to Inkscape instead.
The possibilities only end at the number of FOSS programs that are taking donations. Go to the programs that you use and look for a "donate" button.
Then give 'em a sandwich.
[Extra points to whomever can identify which song the title of this blog comes from. No Googling.]
This blog, and all other blogs by Larry the Free Software Guy and Larry Cafiero, are licensed under the Creative Commons Attribution-NonCommercial-NoDerivs CC BY-NC-ND license. In short, this license allows others to download this work and share it with others as long as they credit me as the author, but others can't change it in any way or use it commercially.
(Larry Cafiero is one of the founders of the Lindependence Project and has just started developing software in his new home office. Watch this space.)


How would you like to stylishly show your support of Free/Open Source Software and, especially, an organization that sets up Linux-based computer labs in the San Francisco Bay Area's low-income schools?
It's simple: With Canonical's permission, Boutique Academia has teamed up with Partimus — a nonprofit that brings the aforementioned labs to the schools — to offer these Ubuntu-themed earrings.
Partimus is an outstanding organization. The volunteers at Partimus build and maintain computer labs running FOSS software in low income schools. Their efforts have provided computer education — increasingly important in today's job market — to many children who would not have had it otherwise.
According to the site, these earrings are gold plated and measure ~3/4″. They are slightly domed for depth and are hung on gold-filled hooks.
With the purchase of Ubuntu Earrings, $6 per pair will go directly to Partimus' operating costs, helping them to expand into more schools.
Clearly more programs like Partimus — and Ken Starks' HeliOS Project in Austin, Texas — deserve support from the greater FOSS community because it directly addresses the future.
So while my earring-wearing pirate days of yore are long over (Arrrrrr!), someone in my family may get a pair of these.
Thank you, Boutique Academia, for providing this fundraiser for Partimus.
(Larry Cafiero is one of the founders of the Lindependence Project and has just started developing software in his new home office. Watch this space.)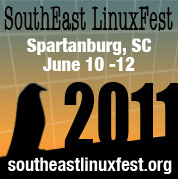 Linux for the GNU South — it's going on right now (if you're reading this the day the blog appears).
Yep, that title — also the name of an album by the Who — is what the British (and, I would imagine, our Canadian neighbors) call bits and pieces; which is what we're going to talk about today since this week was full of news and I have been staring at my living room thinking, "How the &@%*! am I going to move all this stuff?"
A difference of opinion, or . . . ? Ken Hess writes on ZDNet an item about businesses going (or maybe not going) completely virutal here, but wait — maybe you should keep one or two just in case the cloud dissipates. Contrast this laugher to Caitlyn Martin's response here, where she calls this "the most ridiculous article I've read in a very long time." Me? I side with Caitlyn — clearly. This is not the first head-scratcher Hess has produced, nor will it probably be the last. A corollary to this is Andy Updegrove's ominous look at a "cloud-free" future forced upon us here.
Dead horse, meet foot: I've been giving a lot of thought to the OpenOffice.org transfer by Oracle to Apache. I'd like to think something good will come of this, but I think that since joining the two projects seems to be all but impossible (for a couple of good reasons, but some not so good), we can thank the suits at Oracle for screwing up an outstanding FOSS project. Meanwhile, for all those who have an interest in keeping what OO.o started going in the right direction, get right over to the Document Foundation and pitch in.
Name, rank, and serial . . . OK, just your name will do: First, thanks for all those who liked the list blog that ran this week. I need to point out a matter of personal policy on this blog: I don't post responses that are anonymous or come from someone named/called/nicknamed "anonymous" or any variety thereof (i.e., "anon"). I bring this up because I have got responses from people who wouldn't name themselves — two excellent responses that I would like to post — and I've written each of them to ask them to identify themselves so I can post their comments. Initials would work.
Well, I should stop stalling and start packing up.
(Larry Cafiero is one of the founders of the Lindependence Project and has just started developing software in his new home office. Watch this space.)