Archive for June, 2011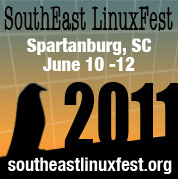 Linux for the GNU South — it's coming up so attend if you can.
Lists: We all make 'em and, judging by what appears on LXer.com, we all read 'em. A great majority of them are worthwhile and informative; others, not so much.
Over the last few months, I've noticed an uptick in the number of "Top $NUMBER List of $VERY_COOL_PROGRAMS" on LXer.com and thought that perhaps a list of the best lists might be helpful to navigate these uncharted waters.
Doing this list David Letterman style, we'll start at 10 and work our way down to the Number 1 Linux list over the last few months. Ready?
10. 8 of the Best Free Astronomy Apps — An excellent list for those into astronomy: What could be better than free star charting apps? Me, I'm all in on KStars. Thank Steven Epps for this — many of the lists you'll find in the ether of the Internet come from him.
9. Fedora 15's Five Best Features — This review by Steven Vaughan-Nichols should be renamed "Five Good Things about Fedora 15 and a Song of Despair" (with apologies to Pablo Neruda), since he starts out by bemoaning (rightfully) the shortcomings of GNOME 3, and then following up with a list of five good things about the release.
8. 31 Great Tutorials for Inkscape — You might as well call this the Baskin Robbins of Inkscape tutorials, and the Unixmen, who normally have some good tutorials on hand, give us a veritable ice cream store of knowledge on this great software.
7. 7 of the Best Free Linux GPS Tools — Another list from Steve Epps. A program can be found here to let you know where you're going and where you've been.
6. Five Must Have GNOME Shell Extensions — If you're running Fedora 15 with GNOME 3, this list will come in handy.
5. 5 things I like in Ubuntu 11.04 (Unity) and 10 things which I don't — Dark Duck likes and dislikes several things about Natty Narwhal, and the interesting perspective here is that some of the likes and dislikes are the same.
4. 9 Good CD and DVD Burning Tools for Ubuntu/Linux — While these aren't necessarily soley Ubuntu tools, it provides a good list.
3. Top 6 Quicklists for Ubuntu 11.04 Natty to Enhance Unity Launcher Functionality — … and if you said that all in one breath, you get a prize. Manuel Jose seems to be on top of all things Ubuntu, and he gets a prize for providing adequate alternatives for Unity users.
2. 7.5 Reasons to Look Forward to Fedora 15 — Joe "Zonker" Brockmeier adds a list of things that, at the time, were coming up in the now-released Fedora 15, and the half-point goes to . . . nope, no spoiler alert here.
Which brings us to the top Linux list of the past few months, brought to you by LXer.com:
1. 70 Open Source Replacements for Small Business Software — In a word: Damn.
Got an item I missed? Pass it on.
(Larry Cafiero is one of the founders of the Lindependence Project and has just started developing software in his new home office. Watch this space.)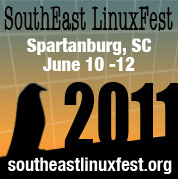 Linux for the GNU South — it's coming up so attend if you can.
More than one person — several actually, none of whom will be named here, to protect the innocent — asked me recently, "Did you see Carla Schroder's article in LXer.com on Ubuntu?"
I did. In fact, all ego aside (and we'll wait a few minutes until we've had a chance to move that large thing aside), I may have had a hand in this through my contribution to a LXer.com forum item where I said:
"If you'll permit me a tangent, is Ubuntu "ashamed" to call itself Linux? If you go to their Web page, on the main page you won't find the word "Linux" anywhere. I finally found it on an "About Ubuntu" page in the second or third paragraph. If you go to the openSUSE main page, Linux is there; same with Fedora and Debian (though Debian goes the GNU/Linux route).
Just wondering aloud . . . ."
Later, if you're reading along with us on this forum, Carla Schroder (a.k.a., tuxchick) says:
"Ubuntu has many good points, not the least of which are kick-starting serious effort in making a really good desktop Linux, making inroads into the commercial computer market, genuinely welcoming new contributors, and inspiring hosts of respins and derivatives. Think back to the pre-Ubuntu days– Debian releases were stretching out ever longer (over three years!), Mandriva is perennially in crisis, Red Hat is uninterested in the consumer market….hmmm, methinks I spy an article in this subject." (emphasis added)
So I'll take a bow for contributing to the inspiration behind Carla writing this article, which is outstanding. Its outstanding nature outshines the fact that there are a couple of minuscule glitches in the article itself — one is that while Red Hat may not care about the desktop market, it established Fedora Core and the Fedora Project at the same time it "went enterprise" (not terribly clear in the article), and Fedora started roughly a year before Ubuntu came along. Also, for all the great things it rightfully says about Ubuntu — let me repeat that, for all the great things it rightfully says about Ubuntu — it still doesn't address the community's lack of technical contributions back to the greater FOSS community, for starters.
But let's not go there now.
Let's talk instead about how being respectfully critical or showing calm and reasoned dissent contributes to the greater good of all — for those being criticized as well as for those making the observations. Let's talk about taking what's being said at face value rather than looking into a subtext that more than likely doesn't exist.
Bear in mind: When done for the greater good, dissent is not disloyalty.
I'm an Ubuntu user; though it's not my primary distro of choice, I still use it on a variety of machines. My daughter is an Ubuntu user, and it is her distro of choice, as outlined in our UpSCALE talk (Mimi and I are at the 27:23) at the Southern California Linux Expo this year.
As noted here and elsewhere, I have had differences of opinion regarding how Ubuntu does things, and I have been critical of the credit Ubuntu wrongfully gets for technical contributions made by others. Until this changes, I will continue to be critical of Ubuntu, just as I am critical of Fedora — which is my distro of choice, though I am no longer officially a part of that community — and openSUSE and any other distro or community when criticism is warranted.
My purpose in bringing up shortcomings is to have those in a position to do so correct them — and if I can, I will correct them myself — rather than to berate those doing what I think is misguided or just wrong.
Also, it should be noted that I have also been known to heap praise on those communities that deserve it, bearing in mind that a distro that gets praise one day for doing something good for FOSS may get criticism on another for doing something not-so-good.
The fact of the matter is I don't expect Ubuntu, Fedora, openSUSE, Debian or any other distro or FOSS program, to be perfect. I do, however, demand distros and communities to live up to the higher standards that we as FOSS users and advocates have set — the most basic of which is that everyone contributes and everyone benefits — and I don't find this an unreasonable position.
So next time you find someone being critical, ask yourself whether the criticism is valid and if there is a solution to this criticism, other than an ad hominem response (yes, I'm looking at you, Mark Shuttleworth).
Oh, and critics: It's good to have a solution to go along with your critique. Admittedly, I should do this better, and promise to do so going forward.
(Larry Cafiero is one of the founders of the Lindependence Project and has just started developing software in his new home office. Watch this space.)


Categories:

Carla Schroder, Debian, Fedora, LXer.com, Mark Shuttleworth, OpenSUSE, Ubuntu
Carla Schroder, Debian, Fedora, GNU/Linux, linux, LXer.com, OpenSUSE, Ubuntu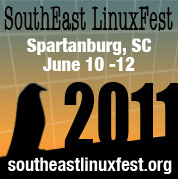 Linux for the GNU South — it's coming up so attend if you can.
A glorious day indeed, filled with a variety of thoughts: While I was out enjoying it, I got to thinking about both the grand-scheme and minutiae goings-on in FOSSland, much of which has everyone asnitter moreso than atwitter.
There's the OpenOffice.org handoff — or as some would put it, the OO.o drop kick — to the Apache Foundation by Oracle. This comes as no surprise. If Oracle were a good FOSS citizen, they'd have given it to the Document Foundation and LibreOffice would be its rightful heir. But this is Oracle we're talking about, right? With Oracle finally washing their hands of OO.o, it remains to be seen what becomes of it. But since the barn door has been open for quite some time and the LibreOffice horse is at home out in the pasture, I am not sure if keeping OO.o around would be worth it.
Incidentally, LibreOffice is an outstanding program which kicks serious butt, just as OpenOffice.org did, and it's nothing short of miraculous that the fork hasn't missed a beat in transitioning from OO.o. So far, that's the story of the year for 2011. I use it. I like it. I'm in their camp.
Walking among the redwoods, it's hard to be annoyed at the new desktop wars: Not GNOME versus KDE, but the systematic "simplicity" of desktop environments like GNOME 3 and Unity. For netbooks and other mobile user interfaces, this may work and may be necessary. I don't use netbooks or smart phones — I use a desktop or a laptop, and I'd like my desktop environment to look and function like a one. Call me old school, but desktops like KDE — which I'm using more and more as of late — and Xfce are looking better and better.
Also, I don't assume that people who are new to Linux are complete morons who need a dumbing down of the desktop environment to convince them to join the ranks of FOSS users. But that's me.
Finally, I live in a great area at the western foot of the Santa Cruz Mountains, the small range that separates the ocean from the Silicon Valley east of here. Not only is the proximity of the Valley a boon, but another of many perks in living here is having folks in the area like Cabrillo College networking professor and Cisco author Rick Graziani. Rick is opening his IPv6 seminars this month to the public — "Everyone is welcome! You do not have to be a former or a current student. All you need is to have an interest in learning more about IPv6 and don't mind listening to me for a couple of hours," Rick writes (though prior knowledge of IPv4 is required).
The talks are Thursday, June 23 — Intro to IPv6 — and Friday, June 24 — Intro to Routing IPv6 — at the horticultural building room 5005 at Cabrillo College, 6500 Soquel Drive, Aptos. Both talks run from 6:30 to 8:30 p.m.
You do need to RSVP to Rick at graziani-at-cabrillo-dot-edu to attend. Tell him Larry the Free Software Guy sent you.
Forrest — Forrest Gump — was right: You never know what you'll get.
(Larry Cafiero is an associate member of the Free Software Foundation. He is also one of the founders of the Lindependence Project.)


Categories:

Apache, Cabrillo College, GNOME, LibreOffice, linux, Linux, OpenOffice.org
Apache, Cabrillo College, GNU/Linux, LibreOffice, linux, OpenOffice.org, Rick Graziani