Archive for the 'Bodhi Linux' Category
Yes, I know LinuxCon is next, and that's in mid-August, but I think they've got the publicity thing covered, especially with the 20-year thing and with Linus being there and all. But if you're going to the next show, make it the Ohio LinuxFest in September. Bradley Kuhn and Cathy Malmrose are keynoting, so you'll not want to miss that (especially Cathy — Go ZaReason!)
First things first: I'm certainly not calling out Marcel Gagne for getting it wrong in a recent blog post — the "it" in question is that Linus Torvalds uses Linux Mint. On the contrary — to his credit Marcel corrected himself and, hey, it could have happened to anyone.
Also, we're not going to go to the GNOME thing right now, at least not right way, despite the fact there has been a parade of "me toos" following Linus' unhappiness with GNOME's new desktop offering.
But it occurred to me today after reading Marcel's mea culpa that, in the grand scheme of FOSS things, it really doesn't matter what Linus uses. Before you all collectively brand me a heretic, allow me to explain.
Linus has been quoted in the past as being a Fedora user, because it worked on the PowerPC hardware he was using. That's great — he joins thousands of others using Fedora. He may not be one now, and if that's the case he'd join thousands of others not using Fedora. There's also an instance in the past — the distant past, as opposed to a week or two ago — where he switched desktop environments.
All that's OK.
It means Linus is like us.
Think about it. Which of us has not switched distros or desktop environments? Which of us has not expressed extreme displeasure over a program or desktop environment and made that dissatisfaction public on mailing lists and/or forums? We certainly allow ourselves the luxury of making these switches — on a whim or more — so shouldn't we grant that same right to the man who brought us where we are today?
The question isn't so much "What distro does Linus use?" as much as possibly "How many distros does Linus use?" Think about it and put yourself in Linus' shoes. You have your favorites, and so does he. If you have a chance, and the hardware, to use more than one distro, wouldn't you? I bet Linus would.
Or not, if you — or Linus — are really enamored and happy with one and truly want to stick with it.
I am primarily a Fedora guy — that has been mentioned in this blog often in the past. But while Fedora KDE runs on my constant companion, also known as "the football" and the laptop that never leaves my side, I also have machines running Debian, Kororaa and CrunchBang (we're going to need a moment of silence for a recently departed Fujitsu laptop once running Bodhi Linux, which went to its final rest through no fault of the distro).
Why four different distros? Simple: It's because I like those distros and I have the hardware that will run them.
And that's as it should be.
This blog, and all other blogs by Larry the Free Software Guy and Larry Cafiero, are licensed under the Creative Commons Attribution-NonCommercial-NoDerivs CC BY-NC-ND license. In short, this license allows others to download this work and share it with others as long as they credit me as the author, but others can't change it in any way or use it commercially.
(Larry Cafiero is one of the founders of the Lindependence Project and has just started developing software in his new home office. Watch this space.)
Categories:

Bodhi Linux, CrunchBang, Fedora, KDE, Linus Torvalds, linux, Linux
Bodhi Linux, Fedora, GNOME, GNOME 3, KDE, Linus, Linus Torvalds, linux, Marcel Gagne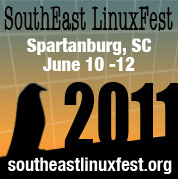 Linux for the GNU South – Attend if you can.
If you know anything about my past — no, that's not me on the Post Office walls across the country . . . honest — you'll know that I was a resident at the San Francisco Zen Center in the early to mid '90s where, among other things, I was trying to find enlightenment.
So I'm familiar with the Bodhi tree and with Bodhidharma. Good thing, too, because when trying Bodhi Linux, those leaves from the tree swirling around the screen could be a little disconcerting.
Jeff Hoogland and his group of FOSS bodhisattvas who put together this distro deserve a gassho in eternal homage for their efforts in producing an outstanding distro. While I am limited to running tests on hardware that is — how can I put this tactfully? — old, the distro ran flawlessly on two laptops — a ThinkPad T30 and a Toshiba Satellite.
Based on Ubuntu (which is based on Debian, to give credit where credit is due), Bodhi Linux 1.0.0 was a breeze to download at under 400MB and easy to install.
What you get once you reboot after installation is, well, Enlightenment.
No, not karmic bliss, but Enlightenment the desktop environment which, in this age of new desktop environments, is a fresh and viable alternative to those now vying for attention in the FOSS world. Enlightenment is a very clean environment with a gradual learning curve that takes some attention at first, but it's easily adaptable to what you're used to with a minimum amount of effort (for example — getting the X pointer instead of the triangular Delta thingie is a snap. Sorry, guys, but that big triangle has got to go). Enlightenment is as elegant as it is functional, and in getting used to it quickly, it is one that can appeal to a wide range of users. Also, it looks like a computer desktop, unlike some of the other more popular desktop environment offerings as of late, and that personally is a huge +1.
The philosophy behind Bodhi Linux installing a system with only a few programs is as logical as it is interesting: It provides the user an opportunity to build the system the way he or she want to build it. This could be intimidating to the newer users, but for those who have been around the Linux block a few times, it's a welcome option to put together what you want and how you want it. For example, for me, a few apt-gets on the command line later (one of the first, for me, was sudo apt-get install synaptic — OK, so I'm lazy) and I had what I wanted and was on my proverbial way.
On the old hardware that I'm destined to be stuck with thanks to my economic status as a terminally poor guy, Bodhi runs very well. I can imagine that it probably flies on newer, more powerful hardware (although I understand that Bodhi Linux currently comes in 32-bit version only). Not only this, while I have put back Fedora 15 beta on the ThinkPad — while Bodhi is good, Fedora is my distro of choice — I will keep Bodhi Linux on the Satellite.
If you have time and want to give it a test-drive, Bodhi Linux can be found here.
Again, thanks to the Bodhi Linux crew for putting out a good distro and keep up the great work.
(Larry Cafiero runs Redwood Digital Research in Felton, California, and is an associate member of the Free Software Foundation. He is also one of the founders of the Lindependence Project.)


Categories:

Bodhi Linux, Debian, Enlightenment, Jeff Hoogland, Ubuntu
Bodhi Linux, Debian, Enlightenment, GNU/Linux, Jeff Hoogland, linux, Ubuntu
One of the great things about The White Raven in Felton — reason number 982 that I come here when I can — is that after dropping off Mimi for her concert over the hill, I can come here at 7 a.m. on a Saturday morning and the coffee is good and there's Dylan and Hendrix already blasting in the cafe.
So while the wind still whispers Mary, I'm catching up on things.
I promised you a test drive of Bodhi Linux last week. After kicking the tires earlier this week, I'm still driving — in fact, I'm writing this from a ThinkPad running Bodhi and while I will go into detail when I blog about it, overall it's a solid distro that has done everything I've asked it to. Except make me breakfast, but I haven't had a distro do that yet. Watch this space.
One of the things I wanted to point out with an item today is that we're ramping up Lindependence again this year to a more regular event. While the debate raged for weeks about when to hold it — on Independence Day or on Software Freedom Day — it was decided to hold it on the latter to give us more time to prepare and to emphasize not the independence of Independence Day so much as to focus on Linux itself and celebrate Free/Open Source Software on a date specific to it.
More to follow on this, too.
That's what brings me here today — not "here" as in The White Raven, but here in Felton, where we're moving the office space and preparing for the Felton LUG meeting this afternoon — 2 p.m. at the solar-powered fire station behind the Community Center on Highway 9 (directions enough in Felton). Grant Bowman — a tireless FOSS advocate and wearer of many digital hats — will be giving a Natty Narwhal presentation.
Bob is right: I used to be so amused at Napoleon in rags and the language that he used.
(Fedora ambassador Larry Cafiero runs Redwood Digital Research in Felton, California, and is an associate member of the Free Software Foundation. He is also one of the founders of the Lindependence Project.)