Archive for the 'Debian' Category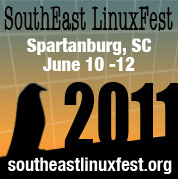 Linux for the GNU South – Attend if you can.
If you know anything about my past — no, that's not me on the Post Office walls across the country . . . honest — you'll know that I was a resident at the San Francisco Zen Center in the early to mid '90s where, among other things, I was trying to find enlightenment.
So I'm familiar with the Bodhi tree and with Bodhidharma. Good thing, too, because when trying Bodhi Linux, those leaves from the tree swirling around the screen could be a little disconcerting.
Jeff Hoogland and his group of FOSS bodhisattvas who put together this distro deserve a gassho in eternal homage for their efforts in producing an outstanding distro. While I am limited to running tests on hardware that is — how can I put this tactfully? — old, the distro ran flawlessly on two laptops — a ThinkPad T30 and a Toshiba Satellite.
Based on Ubuntu (which is based on Debian, to give credit where credit is due), Bodhi Linux 1.0.0 was a breeze to download at under 400MB and easy to install.
What you get once you reboot after installation is, well, Enlightenment.
No, not karmic bliss, but Enlightenment the desktop environment which, in this age of new desktop environments, is a fresh and viable alternative to those now vying for attention in the FOSS world. Enlightenment is a very clean environment with a gradual learning curve that takes some attention at first, but it's easily adaptable to what you're used to with a minimum amount of effort (for example — getting the X pointer instead of the triangular Delta thingie is a snap. Sorry, guys, but that big triangle has got to go). Enlightenment is as elegant as it is functional, and in getting used to it quickly, it is one that can appeal to a wide range of users. Also, it looks like a computer desktop, unlike some of the other more popular desktop environment offerings as of late, and that personally is a huge +1.
The philosophy behind Bodhi Linux installing a system with only a few programs is as logical as it is interesting: It provides the user an opportunity to build the system the way he or she want to build it. This could be intimidating to the newer users, but for those who have been around the Linux block a few times, it's a welcome option to put together what you want and how you want it. For example, for me, a few apt-gets on the command line later (one of the first, for me, was sudo apt-get install synaptic — OK, so I'm lazy) and I had what I wanted and was on my proverbial way.
On the old hardware that I'm destined to be stuck with thanks to my economic status as a terminally poor guy, Bodhi runs very well. I can imagine that it probably flies on newer, more powerful hardware (although I understand that Bodhi Linux currently comes in 32-bit version only). Not only this, while I have put back Fedora 15 beta on the ThinkPad — while Bodhi is good, Fedora is my distro of choice — I will keep Bodhi Linux on the Satellite.
If you have time and want to give it a test-drive, Bodhi Linux can be found here.
Again, thanks to the Bodhi Linux crew for putting out a good distro and keep up the great work.
(Larry Cafiero runs Redwood Digital Research in Felton, California, and is an associate member of the Free Software Foundation. He is also one of the founders of the Lindependence Project.)


Categories:

Ubuntu, Debian, Bodhi Linux, Enlightenment, Jeff Hoogland
Bodhi Linux, Debian, Enlightenment, GNU/Linux, Jeff Hoogland, linux, Ubuntu

Registration is now open for SCALE 9X — register now by clicking on the winking penguin.
I got to my office and it was too cold to work. So I left the frozen tundra of Redwood Digital Research for the cozy confines of The White Raven.
From the comfort of a large coffee and a view of traffic passing New Leaf Market — a solar-powered organic grocery story which has its servers running Red Hat, no thanks to me, but still — I thought about a couple of stories I'd read this past week.
The first was a blog post by an Emery Fletcher which paints Ubuntu as the be-all and end-all of Linux implementation. While I am eternally grateful for Ubuntu's efforts in promoting Linux in the general public (even if it is to the point of putting itself first and FOSS second, but I digress) and while the blog presents an interesting point about Linux implementation, it's hard to determine whether this blog item suffers from anything more than mere myopia.
Current versions of Debian, OpenSUSE and Fedora are all as user-friendly as the current version of Ubuntu, but that does not enter into the equation in this blog. That's unfortunate, too, because what both Fedora and OpenSUSE — with its new Studio spin — have done consistently with each upgrade have been remarkable. Mr. Fletcher may be lacking some perspective — think about where Ubuntu would be without the contributions to kernel development (warning: that link is a PDF file, courtesy of the Linux Foundation) and desktop development without the three distros mentioned at the beginning of the previous sentence — a harrowingly depressing thought, indeed.
The second article — the one from which this blog title derives its name — comes from a comment I made on a discussion in LXer.com regarding this blog item comparing Photoshop and GIMP.
First things first: There are some unqualified truths in life. The sun will always rise in the east and set in the west. The moon controls the tides. The San Francisco Giants will win the World Series only once every half-century.
Above all of the aforementioned is this one: GIMP is not Photoshop.
I've used GIMP in a professional setting — namely the newspaper for which I work. Once a long time ago, the paper did not have enough Photoshop licenses to go around for all the editors, so I downloaded GIMP (not requiring a license) and used it to process photos that ended up on the newspaper's printed page. However — and you knew that was coming — I am fairly well-versed in GIMP and had little problem adapting to its interface; had another editor who is more Photoshop oriented had to do the same thing, s/he may have had a problem or two.
GIMP is an adequate photo manipulation program, but without the army of developers behind it — as Adobe has — it will pale in comparison with Photoshop. Always. So it's foolish to think that professionals wouldn't use Photoshop. In other words, if you're a professional driver qualifying for the Indianapolis 500, you're not going to strap yourself into a '69 Dodge Dart to get the job accomplished — you're going to use the appropriate tool(s) for the job. Conversely, most people don't need a turbocharged single-seat racing car to go to work and back, and to run daily errands.
Will there be a time when GIMP can rival Photoshop? Not without a huge influx of developers to match what Adobe does. Believe me, every night before I drift off to sleep, I pray to the Almighty that developers will magically appear on GIMP's doorstep (and the rhetorical doorstep of other FOSS programs) and that Job One will be making a single window interface for GIMP. Please, Lord . . .
Also, calling GIMP a '69 Dart is not an insult. I had one, and it was the best car I've ever owned, VWs included (and those who know me know my loyalties for automotive products from Wolfsburg run deep). The Dart was the most boring and utilitarian car I've ever owned, too, but it was still the most dependable and reliable.
Well, now that I'm a bit warmed up, I'll head back to Redwood Digital.
(Fedora ambassador Larry Cafiero runs Redwood Digital Research in Felton, California, and is an associate member of the Free Software Foundation.)



Registration is now open for SCALE 9X — register now.
Yes, it only comprises a half of a percent — that's 0.5 percent, if you're keeping score at home — of all the Linux users. Yes, that translates to a microcosm of Linux users within a microcosm of overall computer users. So I understand if Linux on PowerPC does not apply to you.
But it might.
Regular readers of this blog know I have a soft spot for PowerPC architecture. I was a Mac guy before I was a Linux guy, and I became a Linux guy using Linux on PPC architecture before I finally — finally — warmed up to Intel, AMD and others. You've probably read here how well this processor works, and how fondly I remember Steve Jobs doing the Adobe Photoshop demonstration during every Macworld keynote while the PPC processor kicked Intel's sorry butt time and time again.
While major distros have been making a bee line away from developing for the PowerPC architecture since Apple dumped the processor for the Intel one now in newer Macs, Fedora skipped its development of a PowerPC version of it's current release, Fedora 14. They joined OpenSUSE in recently saying a hasty "adios" to an architecture that, sadly, is being used less in the hardware world.
[Currently, I have two iMacs at Redwood Digital -- a flavored G3 333MHz and an iMac G4 "desk lamp," both running Debian. Of all distros, Debian has remained consistent in its commitment to updating its PowerPC version of their distro. They also remain committed to developing for Commodore 64 and Atari architectures as well, while we're at it, but I digress.]
But there is good news for those who use the PowerPC: Fedora will be back in the PowerPC fold with Fedora 15, scheduled for release in May.
On behalf of the microcosm within the microcosm, thank you Fedora.
(Fedora ambassador Larry Cafiero runs Redwood Digital Research in Felton, California, and is an associate member of the Free Software Foundation.)