Archive for the 'GNOME' Category
Yes, I know LinuxCon is next, and that's in mid-August, but I think they've got the publicity thing covered, especially with the 20-year thing and with Linus being there and all. But if you're going to the next show, make it the Ohio LinuxFest in September. Bradley Kuhn and Cathy Malmrose are keynoting, so you'll not want to miss that (especially Cathy — Go ZaReason!)
Until recently, I had several of my lab machines using GNOME — until my hardware and I were relegated to second-class status by being only able to use the GNOME 3 Fallback Mode while the rest of the world went on its merry way using GNOME 3. But in the grand scheme of things, that's OK: Regular readers of this blog also know that in the recent past I have taken both GNOME 3 and Unity to task for bailing on already experienced users in an effort to dumb down the desktop for those who are new to Linux.
Of course, the woe I documented in past blogs about it is nothing compared to the choice words Linus Torvalds has for GNOME 3.
As widely reported by ZDNet and others, Linus had some — how can we put this tactfully? — issues with GNOME 3, which he outlined in a Google+ message.
Also, as Steven J. Vaughan-Nichols points out in the ZDNet article linked above, the request by Linus to fork GNOME 2.x "started in a public Google+ posting by Dave Jones, a Red Hat engineer and one of the maintainers of Fedora Linux, where Jones announced some minor Linux kernel news for a Fedora update. As the discussion continued, Torvalds joined in and remarked, 'Could you also fork gnome, and support a gnome-2 environment? I want my sane interfaces back. I have yet to meet anybody who likes the unholy mess that is gnome-3.' "
Well, now . . .
As just about everyone in FOSS knows, Linus is not one to mince words. Not only this, there's a Wikiquote page that backs up this assertion.
But it's not like Linus T. becomes Mr. T when in disagreement. Since he is particularly charming and well spoken in person, I would think those words coming from him verbally would not have the same edge as they do when you read them on the screen. Opinionated as he is, it doesn't appear that Linus is a jerk about taking a stand on an issue, which cannot be said for everyone in the FOSS realm.
I like to think that the GNOME 3 situation is one that's akin to what happened with KDE 4: The latter had a rough start before levelling out to a pretty decent KDE 4.7. For GNOME's sake, I just hope this is a repeat of KDE's experience. Though it appears that GNOME 3 has done something significantly radical in this new desktop, I think the curve for "correction" — for lack of a better term — could be more steep.
But as I've mentioned in past blogs, GNOME 3 — and to a great extent, Unity — and their attempts to dumb down the desktop were a mistake from the start. Whether that gets fixed or not remains to be seen.
Now to get those "Linus T. speaks for me!" T-shirts and buttons produced and out . . . .
This blog, and all other blogs by Larry the Free Software Guy and Larry Cafiero, are licensed under the Creative Commons Attribution-NonCommercial-NoDerivs CC BY-NC-ND license. In short, this license allows others to download this work and share it with others as long as they credit me as the author, but others can't change it in any way or use it commercially.
(Larry Cafiero is one of the founders of the Lindependence Project and has just started developing software in his new home office. Watch this space.)


Categories:

GNOME, GNU/Linux, Linus Torvalds, Steven J. Vaughan-Nichols, Ubuntu, Unity
GNOME, GNU/Linux, Linus Torvalds, linux, Ubuntu, Unity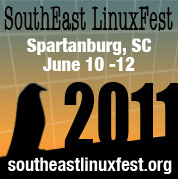 Linux for the GNU South — it's coming up so attend if you can.
Lists: We all make 'em and, judging by what appears on LXer.com, we all read 'em. A great majority of them are worthwhile and informative; others, not so much.
Over the last few months, I've noticed an uptick in the number of "Top $NUMBER List of $VERY_COOL_PROGRAMS" on LXer.com and thought that perhaps a list of the best lists might be helpful to navigate these uncharted waters.
Doing this list David Letterman style, we'll start at 10 and work our way down to the Number 1 Linux list over the last few months. Ready?
10. 8 of the Best Free Astronomy Apps — An excellent list for those into astronomy: What could be better than free star charting apps? Me, I'm all in on KStars. Thank Steven Epps for this — many of the lists you'll find in the ether of the Internet come from him.
9. Fedora 15′s Five Best Features — This review by Steven Vaughan-Nichols should be renamed "Five Good Things about Fedora 15 and a Song of Despair" (with apologies to Pablo Neruda), since he starts out by bemoaning (rightfully) the shortcomings of GNOME 3, and then following up with a list of five good things about the release.
8. 31 Great Tutorials for Inkscape — You might as well call this the Baskin Robbins of Inkscape tutorials, and the Unixmen, who normally have some good tutorials on hand, give us a veritable ice cream store of knowledge on this great software.
7. 7 of the Best Free Linux GPS Tools — Another list from Steve Epps. A program can be found here to let you know where you're going and where you've been.
6. Five Must Have GNOME Shell Extensions — If you're running Fedora 15 with GNOME 3, this list will come in handy.
5. 5 things I like in Ubuntu 11.04 (Unity) and 10 things which I don't — Dark Duck likes and dislikes several things about Natty Narwhal, and the interesting perspective here is that some of the likes and dislikes are the same.
4. 9 Good CD and DVD Burning Tools for Ubuntu/Linux — While these aren't necessarily soley Ubuntu tools, it provides a good list.
3. Top 6 Quicklists for Ubuntu 11.04 Natty to Enhance Unity Launcher Functionality — … and if you said that all in one breath, you get a prize. Manuel Jose seems to be on top of all things Ubuntu, and he gets a prize for providing adequate alternatives for Unity users.
2. 7.5 Reasons to Look Forward to Fedora 15 — Joe "Zonker" Brockmeier adds a list of things that, at the time, were coming up in the now-released Fedora 15, and the half-point goes to . . . nope, no spoiler alert here.
Which brings us to the top Linux list of the past few months, brought to you by LXer.com:
1. 70 Open Source Replacements for Small Business Software — In a word: Damn.
Got an item I missed? Pass it on.
(Larry Cafiero is one of the founders of the Lindependence Project and has just started developing software in his new home office. Watch this space.)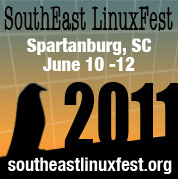 Linux for the GNU South — it's coming up so attend if you can.
A glorious day indeed, filled with a variety of thoughts: While I was out enjoying it, I got to thinking about both the grand-scheme and minutiae goings-on in FOSSland, much of which has everyone asnitter moreso than atwitter.
There's the OpenOffice.org handoff — or as some would put it, the OO.o drop kick — to the Apache Foundation by Oracle. This comes as no surprise. If Oracle were a good FOSS citizen, they'd have given it to the Document Foundation and LibreOffice would be its rightful heir. But this is Oracle we're talking about, right? With Oracle finally washing their hands of OO.o, it remains to be seen what becomes of it. But since the barn door has been open for quite some time and the LibreOffice horse is at home out in the pasture, I am not sure if keeping OO.o around would be worth it.
Incidentally, LibreOffice is an outstanding program which kicks serious butt, just as OpenOffice.org did, and it's nothing short of miraculous that the fork hasn't missed a beat in transitioning from OO.o. So far, that's the story of the year for 2011. I use it. I like it. I'm in their camp.
Walking among the redwoods, it's hard to be annoyed at the new desktop wars: Not GNOME versus KDE, but the systematic "simplicity" of desktop environments like GNOME 3 and Unity. For netbooks and other mobile user interfaces, this may work and may be necessary. I don't use netbooks or smart phones — I use a desktop or a laptop, and I'd like my desktop environment to look and function like a one. Call me old school, but desktops like KDE — which I'm using more and more as of late — and Xfce are looking better and better.
Also, I don't assume that people who are new to Linux are complete morons who need a dumbing down of the desktop environment to convince them to join the ranks of FOSS users. But that's me.
Finally, I live in a great area at the western foot of the Santa Cruz Mountains, the small range that separates the ocean from the Silicon Valley east of here. Not only is the proximity of the Valley a boon, but another of many perks in living here is having folks in the area like Cabrillo College networking professor and Cisco author Rick Graziani. Rick is opening his IPv6 seminars this month to the public — "Everyone is welcome! You do not have to be a former or a current student. All you need is to have an interest in learning more about IPv6 and don't mind listening to me for a couple of hours," Rick writes (though prior knowledge of IPv4 is required).
The talks are Thursday, June 23 — Intro to IPv6 — and Friday, June 24 — Intro to Routing IPv6 — at the horticultural building room 5005 at Cabrillo College, 6500 Soquel Drive, Aptos. Both talks run from 6:30 to 8:30 p.m.
You do need to RSVP to Rick at graziani-at-cabrillo-dot-edu to attend. Tell him Larry the Free Software Guy sent you.
Forrest — Forrest Gump — was right: You never know what you'll get.
(Larry Cafiero is an associate member of the Free Software Foundation. He is also one of the founders of the Lindependence Project.)


Categories:

Apache, Cabrillo College, GNOME, LibreOffice, linux, Linux, OpenOffice.org
Apache, Cabrillo College, GNU/Linux, LibreOffice, linux, OpenOffice.org, Rick Graziani