Archive for the 'GNU' Category
Next up: OSCON. Get there if you can, and give them my regards because I can't make it this year :-(
For those few of you who might have missed this blog, I do apologize. As many of you know, I have moved about three miles down the road to beautiful downtown Felton, about a half-mile south of the traffic light on Highway 9 — say it with me: "That enough directions for Felton." It has taken me fairly close to a month to unpack and sort out the new place; unpacking included taking things out of boxes, asking "Do I really need this?" And then putting away what I do need and taking what I don't to the Abbot's Thrift Store down the street.
But enough about me.
Steven J. Vaughan-Nichols recently wrote a piece on ZDNet that has caused some brouhaha in Linux and FOSS circles. It's a classic tempest-in-a-teapot issue: Microsoft — horrors! — is one of the top five corporate contributors to Linux kernel development and, if you just read the headline, it implies that Microsoft is fifth on the list top contributors.
Well, to paraphrase Paul Harvey (you'll have to google him, kids), here's the rest of the story: Microsoft is fifth on the list of corporate contributors to the Linux kernel and 15th overall on the list. They're behind Red Hat, Intel, Novell and IBM on the corporate list, and 15th overall.
While SJVN aptly outlines the scenario which causes Microsoft to come to the table — virtualization — what is not said, but stands out, to me is that between the four corporate contributors ahead of Microsoft and the 15th overall position that Microsoft holds are 10 non-corporate contributors to the kernel, meaning for all intents and purposes, individuals who are working for the greater good and not for some corporate benefit that Linux provides.
I have not had a chance to see the original article on Linux Weekly News from which SJVN bases his column, thanks to not having a subscription. But I would be interested to see who and what is ranked where.
[Also, I'm not going anywhere near remotely bringing up where Canonical is on the list of corporate contributors to the Linux kernel. Uh uh. Not me. No way.]
Of course the FUDmeisters are spinning this for all it's worth – Stop the presses! Microsoft a top Linux kernel contributor! — but SJVN puts it all in perspective and while it's certainly decent of the corporate giant from Redmond to help improve Hyper-V and Linux interoperability, it's not a sign of the apocalypse by any matter of means.
However, as one comment to SJVN's post points out, you don't turn your back on a coiled snake.
Watch this space, as well as that snake.
This blog, and all other blogs by Larry the Free Software Guy and Larry Cafiero, are licensed under the Creative Commons Attribution-NonCommercial-NoDerivs CC BY-NC-ND license. In short, this license allows others to download this work and share it with others as long as they credit me as the author, but others can't change it in any way or use it commercially.
(Larry Cafiero is one of the founders of the Lindependence Project and has just started developing software in his new home office. Watch this space.)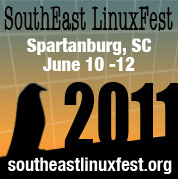 Linux for the GNU South – Attend if you can.
During her visit to Budapest where she was part of the Ubuntu Developers Summit, Linux Pro's associate publisher Rikki Kite posted this on Facebook:
"My geeky friends who pronounce 'gnome' as 'ga-nome' and 'gnu' as 'ga-new' might appreciate this -> I saw gnocchi on the buffet at UDS and said, 'Oh, good, ga-no-kee.' I ka-new it sounded wrong as soon as I said it."
To which I reply to Rikki: You mean that's not how you pronounce it?
Personally, I blame Richard Stallman. It's an affliction that affects geeks on our side of the proverbial aisle: The "G" factor, where a normally silent letter gets pressed into phonetic service, well, for a couple of reasons. First, because it's there (and from an engineering standpoint, why would it be there if it wasn't going to be used?), and secondly, because we're used to the fact that GNU and GNOME have the "g" — how can I put this? — unsilent, and we've been trained, or brainwashed, into putting the "g" in there where it doesn't belong.
It's bad enough the little guys in the garden are guh-nomes — even after the recent movie "Guh-nomeo and Juliet" — but there are other places where this arises.
For example, I had to wail and gnash — pronounced guh-nash, right? — my teeth at the various grammatical and spelling errors (not to mention the Giants blowing a four-run lead to the Dodgers) while working at the paper last night.
Surfers in the area, as well as elsewhere, consider things "gnarly" without the "g" sound; except some in Santa Cruz who also use Linux/FOSS and say "guh-narly," dude.
To say nothing of the fact that we have no pesky gnats — yep, there's a "g" in there, making it guh-nats — flying around in these parts, but I used to have to deal with them elsewhere.
Anyway, while there may be a cure for this, or at least a 12-step program ("I'm Larry, and I'm a G-oholic" — "Hi, Larry"), I think the better course of action would be to alert the non-geeks around you that you're going to be using all the letters in the words you use, save for the silent "e" and the silent "k" in "kn-" words.
(Larry Cafiero runs Redwood Digital Research in Felton, California, and is an associate member of the Free Software Foundation. He is also one of the founders of the Lindependence Project.)


Categories:

Facebook, GNOME, GNU, GNU/Linux, Linux Pro Magazine, Ubuntu, Uncategorized
GNOME, GNU, GNU/Linux, linux, Linux Pro Magazine, Rikki Kite
I'll be there. You should be there, too.
One of the great things about living where I do is the people by whom I'm surrounded in the FOSS realm. Each community has their peeps that do yeoman's work on a daily basis to promote Linux and FOSS, and in the Silicon Valley and "over the hill" on Santa Cruz side, we are stocked with great people who do excellent work.
Grant Bowman, as I've mentioned before in past blogs, is one of them.
Grant started a discussion on the LUG mailing lists in the Silicon Valley and concludes with this: Is there a "best" way to introduce people to knowing more about computing without limits? Grant's e-mail eloquently continues in seeking an answer to how we, as Linux/FOSS advocates, can help those who are Linux/FOSS curious experience what we already know is a better way.
We all know there's not an easy answer to this, and arguably if you get 10,000 people in an arena to answer that question, chances are you'd end up with 12,000 different answers. However, it's a good issue to discuss to get ideas regarding how to best promote Linux/FOSS with the proviso that there is not a "right," one-size-fits-all answer.
Putting aside seeking community — going to LUG meetings, for example, and becoming an active member — I'd prefer here to address the one-to-one issue of Linux user introducing a non-user to Linux.
One basis — not the only one, but my own bottom line modus operandi — for determining how best to promote Linux/FOSS is to know why the potential convertee wants to use Linux/FOSS and how he or she plans to use it. Computer experience at this point in the discussion is secondary, though it is something that needs to be addressed early in the discussion.
So I would break the users down into two basic categories: Changers for philosopical reasons and changers for nuts-and-bolts reasons (and I don't mean "nuts-and-bolts" in a bad sense: What I mean are those who don't care if their software is "free-as-in-freedom." They just want to do what they do on their computers to work as they're accustomed to having it work).
There are others who might fall between these two basic categories — like those who get the philosophical side but focus on the more basic part of having the OS and software "just work" — but for the sake of discussion, let's just use these two for now.
The inverted pyramid
In the news field, one of the principles of reporting is known as "the inverted pyramid;" an upside-down triangle, actually, where the most important item of the news story (that is, the widest part of the triangle) is at the top, with less important items following in a desending order so, as far as importance goes, the diagram would come to a point at the end where the least important part of the story would exist. The inverted pyramid's purposes, in journalistic circles, stems from the fact that when there are space considerations in the newspaper — i.e., when the story is too long for the space — the editor can cut from the bottom and what's lost is not as important as what stays.
How that affects the philosophicals
In the case of those changers who want to use Linux/FOSS for reasons that have to do with not wanting to be chained to EULAs or for reasons revolving around "sticking it to the man," moreso than anything that has to do with basic functionality, you can start your inverted pyramid with the wide and lofty ideals of free software and how that works. Then you can narrow your discussion down to other principles and maybe functions of how to go about using a Live CD (if they don't know how to already) and finally reach the tip at the bottom handing him or her the CD and let them know how to reach you if they have questions.
Meanwhile, back with the nuts-and-bolts crowd . . . .
Let's say that you're having a discussion with someone who's giving you the blank, god-will-this-ever-end glazed-over stare while you discuss some of the concepts of free software. That's a pretty good indication that he or she does not really care about EULAs and the philosophical side of things, and your inverted pyramid doesn't have to start at the lofty ideals of FOSS. Here you can emphasize some of the functionality of Linux and FOSS programs, with the proviso that "your mileage may vary" (an important point — remember GIMP may not do everything Photoshop can do, but for the amateur photographer, GIMP works just fine). The concepts that the software is "free as in free beer" may also resonate. From there, you narrow your discussion down to how you can try out using Linux/FOSS on with a Live CD, etc., and so on.
Again, these are two extremes where a lot of new users may fall somewhere in between, but some of the more important aspects of introducing and helping new users know and share what we might take for granted.
But bear in mind that when you're advocating for Linux and FOSS:
Know your audience,
Bear in mind that while Linux and FOSS benefits everyone, Linux and FOSS are not for everyone, and some may be hesitant and/or may not want to convert (at least at the moment), and
Freedom ultimately means being free not to use FOSS if one so desires, which is akin to leading a horse to water and it's up to the animal whether it'll drink.
I look forward to further discussion on this, and thanks, Grant, for posting this.
(Fedora ambassador Larry Cafiero runs Redwood Digital Research in Felton, California, and is an associate member of the Free Software Foundation. He is also one of the founders of the Lindependence Project.)