Archive for the 'Joe "Zonker" Brockmeier' Category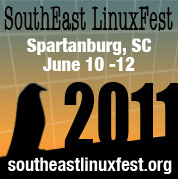 Linux for the GNU South — it's coming up so attend if you can.
Lists: We all make 'em and, judging by what appears on LXer.com, we all read 'em. A great majority of them are worthwhile and informative; others, not so much.
Over the last few months, I've noticed an uptick in the number of "Top $NUMBER List of $VERY_COOL_PROGRAMS" on LXer.com and thought that perhaps a list of the best lists might be helpful to navigate these uncharted waters.
Doing this list David Letterman style, we'll start at 10 and work our way down to the Number 1 Linux list over the last few months. Ready?
10. 8 of the Best Free Astronomy Apps — An excellent list for those into astronomy: What could be better than free star charting apps? Me, I'm all in on KStars. Thank Steven Epps for this — many of the lists you'll find in the ether of the Internet come from him.
9. Fedora 15's Five Best Features — This review by Steven Vaughan-Nichols should be renamed "Five Good Things about Fedora 15 and a Song of Despair" (with apologies to Pablo Neruda), since he starts out by bemoaning (rightfully) the shortcomings of GNOME 3, and then following up with a list of five good things about the release.
8. 31 Great Tutorials for Inkscape — You might as well call this the Baskin Robbins of Inkscape tutorials, and the Unixmen, who normally have some good tutorials on hand, give us a veritable ice cream store of knowledge on this great software.
7. 7 of the Best Free Linux GPS Tools — Another list from Steve Epps. A program can be found here to let you know where you're going and where you've been.
6. Five Must Have GNOME Shell Extensions — If you're running Fedora 15 with GNOME 3, this list will come in handy.
5. 5 things I like in Ubuntu 11.04 (Unity) and 10 things which I don't — Dark Duck likes and dislikes several things about Natty Narwhal, and the interesting perspective here is that some of the likes and dislikes are the same.
4. 9 Good CD and DVD Burning Tools for Ubuntu/Linux — While these aren't necessarily soley Ubuntu tools, it provides a good list.
3. Top 6 Quicklists for Ubuntu 11.04 Natty to Enhance Unity Launcher Functionality — … and if you said that all in one breath, you get a prize. Manuel Jose seems to be on top of all things Ubuntu, and he gets a prize for providing adequate alternatives for Unity users.
2. 7.5 Reasons to Look Forward to Fedora 15 — Joe "Zonker" Brockmeier adds a list of things that, at the time, were coming up in the now-released Fedora 15, and the half-point goes to . . . nope, no spoiler alert here.
Which brings us to the top Linux list of the past few months, brought to you by LXer.com:
1. 70 Open Source Replacements for Small Business Software — In a word: Damn.
Got an item I missed? Pass it on.
(Larry Cafiero is one of the founders of the Lindependence Project and has just started developing software in his new home office. Watch this space.)


I'll be there. You should be there, too.
[Update: OK, WordPress, very funny: When you go to look at your blog stats, the real number is on the bar chart, but the bar on the bar chart it set at astronomical heights.]
So far, the pickings began somewhat slim on the tech news front regarding har-de-har-har April Fools' Day joke news, but it seems to be picking up as of around 9 a.m. Pacific Time — and by this time, which is dusk or later in Europe and night in Asia, the stories should be out and read by now.
The best of the tech so far are these two:
— That KDE is the prize in a raffle, outlined on the KDE site here. I'm just wondering if those who are "offering" are clear on the concept of "prize."
– Marcel Gagne gives us probably the best written one of the day with his Microsoft buys ReactOS for billions, which you can read here. It had me going before the first cup of coffee this morning.
One that would get a thumbs up except it glosses over an issue that Canonical/Ubuntu would just as soon hide in the dungeon and make believe everything is just peachy is the real identity of "Canonical/Ubuntu critic extrordinaire" Jef Spaleta — according to Jono Bacon's blog, it's Jono Bacon himself.
While tongue was planted firmly in cheek and while there was snickerable material in the blog — even the real Jef himself and Mrs. Jef responded to the blog — it makes light of the issue that Jef rightfully and, to his credit, consistently raises: For example, that of Canonical/Ubuntu's contribution, or lack thereof, to kernel development and other aspects of FOSS where they reap the benefits without putting in the work.
I replied to Jono's blog, paraphrasing the late Sen. Lloyd Bensten, who said this to then Vice President Dan Quayle in the debate in '88: "I served with Jef Spaleta. I know Jef Spaleta. Jef Spaleta is a friend of mine. Jono, you're no Jef Spaleta."
One blog falters to the point of faceplanting: Sam Varghese writes on ITWorld — not linked here in principle — that the Linux kernel will be released under the BSD license. This would be a good one in theory, but in execution it tends to go off on a "wink-wink-nudge-nudge" tangent that makes it implausable from the start. Secret meetings in Tegucigalpa? Riiiiiiiiiiiight.
There are also trappings of mirth in some Facebook statuses: The Rude Pundit (warning: though politically appropriate in my opinion, foul language abounds), a liberal blogger who is on top of my list of non-tech reads, gets an honorary degree from Bob Jones University. Also, Joe "Zonker" Brockmeier throws up his hands and goes over to KDE — ha ha, funny guy, that GNOME media guru.
It's still early in these parts, so maybe a Hail Mary pass will find its way to a receiver during the course of the day. Or not. Just bear in mind that it's April 1, and that your shoe is really not untied. Or worse.
[Another update, pointed out by Juan Rodriguez below in the comments: Juan, aka Nushio, gets high marks for his "Fedora Cheat Ball." Link is in the comments -- go take a look.]


(Fedora ambassador Larry Cafiero runs Redwood Digital Research in Felton, California, and is an associate member of the Free Software Foundation. He is also one of the founders of the Lindependence Project.)


Categories:

Canonical, GNOME, Joe "Zonker" Brockmeier, Jono Bacon, KDE, Ubuntu
Canonical, GNOME, GNU/Linux, Joe "Zonker" Brockmeier, KDE, linux, Rude Pundit, Ubuntu

Yeah, it's over, but it was an absolutely great show. Visit the site for some of the details, and see you next year in L.A.!
Just call me the ADD Poster Boy: After winning a Palm Pre 2 from the HP booth, I am finding that I now own a phone that is smarter than me. While I search far and wide regarding its hackability — like, Google: "Can I install Android?" (heh heh heh) — I have to say much of the Sunday/Monday learning curve has taken me away from this blog.
But now that I've figured it out, I can report back about Sunday, the weekend and everything else SCALE 9X. Like:
More people: SCALE had been flirting with overwhelming success all weekend. Friday's "problem" at registration was that the folks in that department faced a lot more people than normally come on a Friday, to the point of where 800 of the attendees for the weekend came on Friday. The final tally — 1,802. So 1,002 folks came over the weekend to make this a record year for SCALE, and as a result, it makes the outlook for FOSS this year really robust. So get out there and FOSS it up, folks.
Better venue: The Hilton went above and beyond to help SCALE be a success. The larger venue made for easier traffic flow in the aisles to the point where it appeared that there were less people at times due to the fact that there were less human jams, save for booths holding raffles (like the HP booth, where yours truly won a Palm Pre 2. Did I mention that?). Most booth folks I spoke to said they were incredibly happy with the event, as were many attendees.
Better connectivity: The wireless, which was choked last year, performed well after a small hiccup on Saturday morning. Bear in mind that when you get 1,800 geeks in the same area at the same time, your wireless performance may be . . .. how can I put this tactfully? . . . taxed. But the SCALE communications staff nailed it this year and there were few, if any, of the holdups that the show suffered from last year.
But at this point, you're probably asking, "But Larry the Free Software Guy, what about Sunday?"
Sunday was fairly uneventful, as they usually are. Jane Silber of Ubuntonical gave her keynote talk on "The Cloud and Human Beings," which was well attended. Booths on Sunday took the usual breather since there were less people around — and this serves as a hint to those attending shows: Want to have a longer, more engaged talk with folks in a booth? The second day — in SCALE's case, Sunday — is the best day to do this. At the Fedora booth, we were able to help some folks with Fedora related problems and got to take more time with issues that came up. Not only this, it allowed me a chance to go swag hunting and this year, rather than taking one of each and backing in the fork lift, I took things I was actually going to read and/or use.
A couple of notes:

Nexenta a server darling? A couple of server vendors had booths at SCALE, one of which was Pogo Linux, and the server folks seem to have latched on to Nexenta, a Solaris-based OS, as their operating system of choice. Maybe it's a sign of things to come, but it's interesting that they've taken this Solaris based distro and made it their own.
Best swag: Rackspace didn't have the tattoo sleeve at SCALE, so the best SWAG — stuff we all get, for those of you keeping score at home — goes to Softlayer for their flying rings. Honorable mention also goes to The Positive Internet Company for their giraffe toy.
The legend lives on: The borders on the OpenSUSE booth structure this year are black, where once they were grey. They were grey when I accidentally — accidentally, I swear — spilled coffee on it and possibly stained it when Joe "Zonker" Brockmeier gave me a stuffed lizard for Mirano that year and I spilled coffee on the booth. The legend of the coffee spill lives on and it has grown to become that I had spilled a pot of coffee on the booth, as well as I might have spilled a pot of coffee on Zonker himself in my zeal to trash the OpenSUSE booth. None of which is true, but it makes for a great story of which William Randolph Hearst ("never let the facts get in the way of a good story") would be proud.
Meanwhile, 40 minutes later . . . .: For those of you still keeping score at home, I am told it took approximately 42 minutes for Jane Silber to say the word "Linux" in her keynote on Sunday. I wasn't there — I had a couple of other things to do, so I'm never able to make keynotes — but this was relayed to me by someone who thought that was peculiar. Indeed.
Now it's on to Linux Fest Northwest.
(Fedora ambassador Larry Cafiero runs Redwood Digital Research in Felton, California, and is an associate member of the Free Software Foundation. He is also one of the founders of the Lindependence Project.)