Archive for the 'Jono Bacon' Category
I had written something about last week's Richard Stallman-Jono Bacon dustup over the weekend, but then realized that it would just be more-of-the-same on a topic upon which too much attention was being spent.
The tl;dr version of what I wrote, and then deleted (you're welcome), is this:
Richard Stallman — who is a great programmer and thinker, but who exhibited again why he's not fit for a leadership role in anything — once again threw diplomacy and tact under the bus, even though he is, to a significant degree, right on the shopping lens issue. But shunning Ubuntu, at its core, flies in the face of freedom — people should be free to use whatever they want as an OS, even if it allows others to see what one is doing (though smarter folks would realize how bad this is).
Meanwhile, Jono Bacon — rather than doing the smart thing by ignoring Stallman's blog post — drags out the tired Ubuntu policy of ad hominem response to any and all criticism, throwing in a FUD accusation for good measure, before — wait for it — offering what he considers an "olive branch."
Yawn. Wake me up when Ubuntu decides to make the shopping lens issue an opt-in rather than an opt-out.
The best writing I've seen on this comes from Benjamin Kerensa in his blog here. So I'll let Benjamin drive for now while I go take care of some more important things.
UPDATE: Jono Bacon writes an apology here.
This blog, and all other blogs by Larry the Free Software Guy, Larry the CrunchBang Guy and Larry Cafiero, are licensed under the Creative Commons Attribution-NonCommercial-NoDerivs CC BY-NC-ND license. In short, this license allows others to download this work and share it with others as long as they credit me as the author, but others can't change it in any way or use it commercially.
(Larry Cafiero is one of the founders of the Lindependence Project and develops business software at Redwood Digital Research, a consultancy that provides FOSS solutions in the small business and home office environment.)

Categories:

GNU/Linux, Jono Bacon, linux, Linux, Richard Stallman
Canonical, GNU/Linux, Jono Bacon, linux, Richard Stallman, RMS, Ubuntu
Leave it to Ubuntu/Canonical's Self-Appointed Benevolent Dictator for Life Mark Shuttleworth to completely ruin a perfectly good release day for Ubuntu 12.10 and its arguably superior derivatives like Kubuntu, Xubuntu, Lubuntu and Edubuntu.
Don't take my word for it. I'll let this article from TechCrunch with the headline "Canonical's Mark Shuttleworth Tires Of Critics, Moves Key Ubuntu Developments Out Of Public Eye" tell the tale.
Was it something I said?
Of course, there's something both fundamentally and tragically wrong — bordering on criminally wrong — about any Free/Open Source Software project moving their "developments out of the public eye." But let's put that aside for a moment, because Shuttleworth writes in his blog that " . . . we thought we would extend the invitation to people who trust us and in whom we have reason to trust, to work together on some sexy 13.04 surprises."
So, not only is Shuttleworth throwing out the FOSS baby with the bath water, he also wants to provide a caste system that either patterns itself after the Inner Party/Outer Party in George Orwell's "1984," or takes a page from Orwell's "Animal Farm" where, to paraphrase, "All developers are equal, but some are more equal than others."
If you're an Ubuntu contributor, how can you be sure you'll be one of "the chosen ones," and if you're not, then why not?
To take a step back, the more fundamental question is this: Is this really how a Free/Open Source Software project should conduct itself?
I would say the answer to this question is an unequivocal "no," and I would also add that, at this point, the direction that Mark Shuttleworth has taken Ubuntu is light-years off course from its original mission.
This goes beyond burying "Linux" on a second- or third-tier page on the Ubuntu site. This clearly goes beyond Shuttleworth's treating current Ubuntu users as second class citizens while he chases the elusive Holy Grail of converting "the new users."
This is betrayal.
So while the Ubuntu Apocalypse lines up to march, zombie-like, to take their shots below in the comments, I'd like to ask them to first look in a mirror and ask themselves if this is truly what they bought into when getting involved with FOSS. And while admiring what you see in the mirror, I'd like to offer a solution to right this ship that's listing under the weight of gross misdirection.
To right this ship, the principled and noble thing to do would be for Mark Shuttleworth to turn over the keys to Ubuntu to Jono Bacon, the Community Manager for Ubuntu, and make Jono the Ubuntu Project Leader. Mark should resign from all Ubuntu community-related posts and concentrate on the corporate side of things, where he excels.
I don't always agree with Jono, but his commitment to FOSS is nothing short of impeccable, and his commitment to these principles is completely unimpeachable. He has the wisdom and experience to bring Ubuntu back to where it should be.
Though this wouldn't happen in either Mark's, Jono's or my lifetime, it would be a step that would go a long way in restoring my faith in Ubuntu's commitment to FOSS.
Now, if you'll excuse me, I have to install Xubuntu 12.10 and put it through its paces.
This blog, and all other blogs by Larry the Free Software Guy and Larry Cafiero, are licensed under the Creative Commons Attribution-NonCommercial-NoDerivs CC BY-NC-ND license. In short, this license allows others to download this work and share it with others as long as they credit me as the author, but others can't change it in any way or use it commercially.
(Larry Cafiero is one of the founders of the Lindependence Project and develops business software at Redwood Digital Research, a consultancy that provides FOSS solutions in the small business and home office environment.)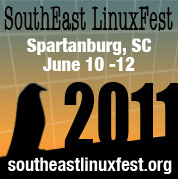 Linux for the GNU South – Attend if you can.
Editor's note: On a cloudy Monday in Felton, California, Larry Cafiero held a press conference at the solar-powered Felton Fire Station for the purpose of clarifying his departure from the Fedora Project and to dispel any of the rumors that had been flying around regarding this departure.
A transcript of the press conference follows:
Larry Cafiero: (to himself moreso than the press, as he sits down behind a bank of microphones) Okay, let's light this candle.
LC: Before we start, I have a statement to read and then, obviously, I'll take questions.
As many of you know, I recently resigned my office as a member of the Fedora Ambassadors Steering Committee (FAmSCo), my position as a Fedora Ambassador mentor and my membership in the Fedora Project. As I had confided in some of the Fedora leadership a few months ago, I had been planning to relinquish much of my responsibilities in Fedora after OSCON in order to pursue other FOSS projects that I will outline later. I had decided recently to advance the date of my departure. Having been a part of the Fedora Project since 2008, I am proud to have served with a number of outstanding individuals, and some not so outstanding, and I still believe that the Fedora Project is the standard by which FOSS projects should be judged. I am still a Fedora user, first and foremost, despite no longer being part of the project.
I'll be glad to take questions now.
Reporter: A blog called the Fifth Pillar speculates that you'll be doing a variety of work with other projects — OMGUbuntu and Gentoo to name two. Even the possibility of drumming for Jono Bacon's band Severed Fifth was mentioned. Any truth to these rumors?
LC: I saw that blog item by my good friend Mark Terranova. No, there is no truth to any of those rumors, though truth be told I think I could jam with Jono and, probably unknown to Mark, I do play the acoustic Theremin in various folk jam bands. As for Gentoo, that's a joke since it's known far and wide that I've never been able to get that distro to run since I started using Linux in 2006.
Ultimately, it's my fault that these rumors got started. One of the things I want to apologize for is how I handled notifying people about my departure, because I really fumbled it badly. To be honest, I didn't think my departure would matter to anyone outside of those who had an administrative interest in my leaving — those who needed to reassign my duties and replace me on FAmSCo. But apparently a lot of other people who I should have told felt they were left in the dark. While I don't mean to sound egotistical, I did get a lot of "Hey, what happened?" e-mails after resigning, and I want to apologize to those who were wondering what was going on.
If I had a chance to do it over again, I would have contacted more people to let them know my plans. But here we are, with the barn door open and the horse prancing in the field.
Reporter: To follow up on this one, in the OMGUbuntu graphic, it has you as Yoda calling Mark Shuttleworth a "clown." Does this reflect your dislike for Shuttleworth or Ubuntu?
LC: No. I don't dislike Mark Shuttleworth or Ubuntu. Let me give you the short- and long-versions behind this aspect of the story. I made a comment on Facebook on a photo of Linux Pro Magazine's associate publisher Rikki Kite with Mark Shuttleworth to the effect of, "Nice picture, Rikki, but who's that clown next to you?" Or something like that. Mostly harmless, and completely tongue-in-cheek. I think Mark Terranova ran with that, referring to a dust-up I had last year with many Ubunteros and Mark Shuttleworth over a blog item I wrote about pointing out another item regarding how much — or actually, how little — Canonical/Ubuntu contributes back to the community in the way of technical support, as well as Mark Shuttleworth's response to my blog posting.
Because I am critical of some aspects of Ubuntu does not mean I dislike it, or the community. I have used Ubuntu in the past and my daughter is an Ubuntu user. I would say I have differences of opinion on some aspects of how things are done in Ubuntu — regarding how LoCos promote a "separate but equal" policy in keeping LUGs at arm's length, for example — but I appreciate, deeply appreciate, Canonical and Ubuntu's artesian contribution to the promotion — the promotion — of Linux. However I don't think this gives them a pass when their contributions back to the kernel development, for example, are woefully lacking. In other words, I don't tell the emperor he's got great clothes when he's wearing nothing at all.
Also, I like Mark Shuttleworth and I think he's an interesting guy. Anyone who puts his efforts to the degree that Mark does behind FOSS is OK with me, to say the least. Besides, he's been to space. The closest I've been to space is a Grateful Dead concert.
Reporter: You mention other FOSS project you're planning to work on. Which are they?
LC: I've been working on the Southern California Linux Expo for the last few years, and I want to devote more time to doing press work for it. I think SCALE has the potential to eclipse OSCON as the premiere West Coast Linux event. Also, I am jump-starting the Lindependence Project, and we'll hold another Lindependence event like we did in 2008 in Felton — only it will be held in conjunction with Software Freedom Day instead of on Independence Day.
One more thing: I have a Facebook app I am working on called Lifeville — so far, it's a simple script that, when you click on the start button, brings up a message that says: "Real life exists beyond this screen. Your computer is now shutting down. Go outside." It's GPLed and CC-licensed.
Reporter: I wonder if you can comment on this line taken from your statement — "some not so outstanding" — meaning, I assume, some people you may have had disagreements or friction with in the Fedora Project.
LC: Yes, I can, and thank you for bringing that up. So much for slipping that under the radar (laughter). Clearly, when you have a group that's as big as the Fedora community, not everyone is going to be dancing in unison around the proverbial May pole. With strong personalities comes strong disagreements — this is clearly a part of the process.
But since FUDCon, I have felt that there has been some discord in the project that has fostered a lot of ill will. One example of this is a movement started in Europe around "give back our distro" or something along those lines which, personally, I thought was a pitch in the dirt that a lot of Fedora folks who should know better were swinging at. Now I don't mind disagreeing, but I do mind having people be disagreeable, and those who know me know that, when provoked, I can be disagreeable with the best of them; Olympic-caliber disagreeable. I have to plead guilty to provoking some of the ill-feeling that this issue has fostered, and I am sorry about that. As a part of the leadership at the FAmSCo level, it was probably unacceptable for me to take such a strong stand against against this, despite how stupid I thought it was, and still think it is.
I think, too, there is a degree of burnout involved in my resignation, but much of that burnout was borne of having to do my duties and also participating in this discussions/debates/arguments that took a lot of valuable time and a lot of effort away from what I, and others, should have been doing.
Reporter: So in other words . . .
LC: I'm sorry to interrupt, but I wanted to add one more thing to this in order to give this a clearer context. As I mentioned in the statement, I believe that the Fedora Project does things right, whether it's engineering an outstanding distro every six months or whether it's promoting it through an Ambassador program that wrote the textbook on promoting a distro, or a Design team that is second to none. A great part of that is the solid community that drives Fedora, despite a handful of malcontents, and much of the credit can be given to Red Hat for their outstanding support. When a billion-dollar company like Red Hat "gets it" — that is, understands how FOSS works and how they clearly benefit from it — it provides a perfect symbiosis between Red Hat and the Fedora Project where those who are working in the Fedora Project reap the benefits of this relationship.
Reporter: Do you see yourself going back to the Fedora Project at any time in the future, or do you think that you'll catch on with another distro or FOSS program?
LC: I'd gladly return to the Fedora Project at some time in the future and, as I mentioned, I'm still primarily a Fedora user. One of the things that I'd also like to explore is being a community leader/organizer — or, like Red Hat's Karsten Wade, a "community gardener" — for a project that I believe in. But while my resume sits on the runway should something in this area come up, I'm still immediately focused on Lindependence and SCALE at the moment.
(Silence follows, with no further questions forthcoming).
LC: OK, so thank you all for coming, and thank you for staying awake.
(Larry Cafiero runs Redwood Digital Research in Felton, California, and is an associate member of the Free Software Foundation. He is also one of the founders of the Lindependence Project.)