Archive for the 'KDE' Category
Yes, I know LinuxCon is next, and that's in mid-August, but I think they've got the publicity thing covered, especially with the 20-year thing and with Linus being there and all. But if you're going to the next show, make it the Ohio LinuxFest in September. Bradley Kuhn and Cathy Malmrose are keynoting, so you'll not want to miss that (especially Cathy — Go ZaReason!)
First things first: I'm certainly not calling out Marcel Gagne for getting it wrong in a recent blog post — the "it" in question is that Linus Torvalds uses Linux Mint. On the contrary — to his credit Marcel corrected himself and, hey, it could have happened to anyone.
Also, we're not going to go to the GNOME thing right now, at least not right way, despite the fact there has been a parade of "me toos" following Linus' unhappiness with GNOME's new desktop offering.
But it occurred to me today after reading Marcel's mea culpa that, in the grand scheme of FOSS things, it really doesn't matter what Linus uses. Before you all collectively brand me a heretic, allow me to explain.
Linus has been quoted in the past as being a Fedora user, because it worked on the PowerPC hardware he was using. That's great — he joins thousands of others using Fedora. He may not be one now, and if that's the case he'd join thousands of others not using Fedora. There's also an instance in the past — the distant past, as opposed to a week or two ago — where he switched desktop environments.
All that's OK.
It means Linus is like us.
Think about it. Which of us has not switched distros or desktop environments? Which of us has not expressed extreme displeasure over a program or desktop environment and made that dissatisfaction public on mailing lists and/or forums? We certainly allow ourselves the luxury of making these switches — on a whim or more — so shouldn't we grant that same right to the man who brought us where we are today?
The question isn't so much "What distro does Linus use?" as much as possibly "How many distros does Linus use?" Think about it and put yourself in Linus' shoes. You have your favorites, and so does he. If you have a chance, and the hardware, to use more than one distro, wouldn't you? I bet Linus would.
Or not, if you — or Linus — are really enamored and happy with one and truly want to stick with it.
I am primarily a Fedora guy — that has been mentioned in this blog often in the past. But while Fedora KDE runs on my constant companion, also known as "the football" and the laptop that never leaves my side, I also have machines running Debian, Kororaa and CrunchBang (we're going to need a moment of silence for a recently departed Fujitsu laptop once running Bodhi Linux, which went to its final rest through no fault of the distro).
Why four different distros? Simple: It's because I like those distros and I have the hardware that will run them.
And that's as it should be.
This blog, and all other blogs by Larry the Free Software Guy and Larry Cafiero, are licensed under the Creative Commons Attribution-NonCommercial-NoDerivs CC BY-NC-ND license. In short, this license allows others to download this work and share it with others as long as they credit me as the author, but others can't change it in any way or use it commercially.
(Larry Cafiero is one of the founders of the Lindependence Project and has just started developing software in his new home office. Watch this space.)
Categories:

Bodhi Linux, CrunchBang, Fedora, KDE, Linus Torvalds, linux, Linux
Bodhi Linux, Fedora, GNOME, GNOME 3, KDE, Linus, Linus Torvalds, linux, Marcel Gagne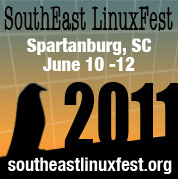 Linux for the GNU South – Attend if you can.
During the course of running the beta for Fedora 15 KDE — Fedora 15 is out now, by the way, and you can get this outstanding release here — I had many problems with connectivity on some hardware running the beta, which forced me to look at alternatives.
It's not that I wasn't filing bug reports — I was — but I know enough about my abilities to realize that any contributions I might make to solving the problem would be outweighed by the fact that I'd clearly be in the way were I to try to fix them. Someday that may not be the case, but until then I let those with the heavier developer chops fix the big stuff and I'll just be over there bowing in homage.
Be that as it may, for several days the Fedora KDE folks were trying to overcome a NetworkManager fiasco which, as far as I could tell as an innocent bystander, stemmed from the Fedora Project's "GNOME 3 uber alles" focus in Fedora 15. During that time, I took another Fedora-based distro for a few laps.
Kororaa Linux 14 Beta 6, code named Nemo, was — and still is — a pleasant surprise.
Once a Gentoo-based distro that went into hiatus in 2007, Australian Chris Smart brought it back to life on Christmas 2010, basing it on Fedora. Why Fedora? Says Smart: "Essentially, Kororaa has been reborn as a Fedora remix, inspired by Rahul Sundaram's Omega GNOME remix. It aims to provide all general computing uses out of the box and it aims to include software packages that most users will want."
Smart and the other contributors at Kororaa hit the mark; in fact, the Kororaa team hits the bullseye in providing a distro with packages that just work out of the box. With the distro based on Fedora 14, it has a solid foundation from which to build, and the Kororaa team has built a solid operating system that those who.
There is an attention to detail balanced by a degree of whimiscal outlook in this distro. First off, the name itself is a variation of the Maori korora, meaning "little penguin." Focusing on the new user, there are eye-candy features, like the rotating desktop which, for those of us in the AARP set, may be a little disconcerting. One thing I particularly liked — and I'm a sucker for stuff like this — is a default in the terminal that provides color characters. Nice touch.
Running on a ThinkPad R32, Kororaa handles everything I throw at it in typical Fedora fashion — with a "thank you, sir, may I have another?" ability and enthusiasm. Not once did the hardware complain or did programs fail under the trials.
Kororaa has a huge potential to grow to be a player on the Linux scene, and Smart and the Kororaa community can go places with Kororaa should enough people get on board and contribute. Count me in. I see a happy and healthy future for the little penguin.
For more information on Kororaa Linux, go here. To download Kororaa, go here.
(Larry Cafiero runs Redwood Digital Research in Felton, California, and is an associate member of the Free Software Foundation. He is also one of the founders of the Lindependence Project.)


I'll be there. You should be there, too.
[Update: OK, WordPress, very funny: When you go to look at your blog stats, the real number is on the bar chart, but the bar on the bar chart it set at astronomical heights.]
So far, the pickings began somewhat slim on the tech news front regarding har-de-har-har April Fools' Day joke news, but it seems to be picking up as of around 9 a.m. Pacific Time — and by this time, which is dusk or later in Europe and night in Asia, the stories should be out and read by now.
The best of the tech so far are these two:
— That KDE is the prize in a raffle, outlined on the KDE site here. I'm just wondering if those who are "offering" are clear on the concept of "prize."
– Marcel Gagne gives us probably the best written one of the day with his Microsoft buys ReactOS for billions, which you can read here. It had me going before the first cup of coffee this morning.
One that would get a thumbs up except it glosses over an issue that Canonical/Ubuntu would just as soon hide in the dungeon and make believe everything is just peachy is the real identity of "Canonical/Ubuntu critic extrordinaire" Jef Spaleta — according to Jono Bacon's blog, it's Jono Bacon himself.
While tongue was planted firmly in cheek and while there was snickerable material in the blog — even the real Jef himself and Mrs. Jef responded to the blog — it makes light of the issue that Jef rightfully and, to his credit, consistently raises: For example, that of Canonical/Ubuntu's contribution, or lack thereof, to kernel development and other aspects of FOSS where they reap the benefits without putting in the work.
I replied to Jono's blog, paraphrasing the late Sen. Lloyd Bensten, who said this to then Vice President Dan Quayle in the debate in '88: "I served with Jef Spaleta. I know Jef Spaleta. Jef Spaleta is a friend of mine. Jono, you're no Jef Spaleta."
One blog falters to the point of faceplanting: Sam Varghese writes on ITWorld — not linked here in principle — that the Linux kernel will be released under the BSD license. This would be a good one in theory, but in execution it tends to go off on a "wink-wink-nudge-nudge" tangent that makes it implausable from the start. Secret meetings in Tegucigalpa? Riiiiiiiiiiiight.
There are also trappings of mirth in some Facebook statuses: The Rude Pundit (warning: though politically appropriate in my opinion, foul language abounds), a liberal blogger who is on top of my list of non-tech reads, gets an honorary degree from Bob Jones University. Also, Joe "Zonker" Brockmeier throws up his hands and goes over to KDE — ha ha, funny guy, that GNOME media guru.
It's still early in these parts, so maybe a Hail Mary pass will find its way to a receiver during the course of the day. Or not. Just bear in mind that it's April 1, and that your shoe is really not untied. Or worse.
[Another update, pointed out by Juan Rodriguez below in the comments: Juan, aka Nushio, gets high marks for his "Fedora Cheat Ball." Link is in the comments -- go take a look.]


(Fedora ambassador Larry Cafiero runs Redwood Digital Research in Felton, California, and is an associate member of the Free Software Foundation. He is also one of the founders of the Lindependence Project.)


Categories:

Canonical, GNOME, Joe "Zonker" Brockmeier, Jono Bacon, KDE, Ubuntu
Canonical, GNOME, GNU/Linux, Joe "Zonker" Brockmeier, KDE, linux, Rude Pundit, Ubuntu