Archive for the 'LXer.com' Category
This has been an extremely busy week for yours truly — school has started and the curriculum for the Python for Web Development class is being finalized (class starts on the 20th for students at Alternative Family Education in Santa Cruz, and the loaner laptops have all had new installs of CrunchBang because, well, I'm the teacher) — and nothing terribly exciting jumped out in the FOSS realm that needed my immediate attention.
This is not to say nothing happened, of course, but not one topic will dominate the pixels on the screen you're reading. But a couple of things popped up on the radar, like . . . .
Intel to Canonical — Go to hell: Phoronix reported Saturday that "the mainline Intel Linux graphics driver has reverted the patch to support XMir — the X11 compatibility layer for the Mir Display Server in Ubuntu Linux." Hmmm. That seems to be a very quick 180 by the chipmaking giant which interestingly, as it turns out, is heavily invested in Wayland. From a practical standpoint, it just looks like Canonical is going to have to do the work itself; Alan Pope said something to this effect when he tweeted, "It just means more work for us (Canonical) to keep integrating xmir patches into x with each release/update." But the subtext, as far as I can see, is that Intel is saying this to Canonical: You want to go your own way? Fine. Do your own work, and good luck. Maybe Ubuntu's walled garden isn't looking so good after all.
Better not pout, I'm telling you why: Well, he knows when you are sleeping. He knows when you're awake. Yes, the previous sentences just scream out begging on bended knee for an NSA joke, but I'm not making it here (see, guys?). But I'm really talking about the jolly one in red — Santa Claus — who will not share a name with the Fedora 20 relase. The Fedora Project community has voted and F20 and the winner is Heisenbug, though I personally gave high ranking in range voting to Santa the Christmas Guy. Nevertheless, Fedora has released the schedule for F20: The alpha goes out in a little over a month on Sept. 17, beta on Oct. 22 with the final release scheduled for Nov. 26.
A must read: Bruce Schneider in The Guardian. Nothing else to say here, just read it.
One more thing: An interesting discussion is currently taking place in the LXer.com discussion forum regarding Katherine Noyes' articles and how she quotes the same people repeatedly. I'm not going to add anything that I haven't said already in this thread, but I think the original poster is right. I read Katherine's items often, and I'm going to ask: Please, Katherine, mix it up a little bit and ask more people — different people — for their opinions.
Felton LUG meets in about an hour. See some of you there.
This blog, and all other blogs by Larry the Free Software Guy, Larry the CrunchBang Guy and Larry Cafiero, are licensed under the Creative Commons Attribution-NonCommercial-NoDerivs CC BY-NC-ND license. In short, this license allows others to download this work and share it with others as long as they credit me as the author, but others can't change it in any way or use it commercially.
(Larry Cafiero is one of the founders of the Lindependence Project and develops business software at Redwood Digital Research, a consultancy that provides FOSS solutions in the small business and home office environment.)

Categories:

Canonical, Fedora, linux, Linux, LXer.com, Ubuntu
Bruce Schneider, Canonical, CrunchBang, Fedora, GNU/Linux, Katherine Noyes, linux, LXer.com, Ubuntu
Yes, I know LinuxCon is next, and that's in mid-August, but I think they've got the publicity thing covered, especially with the 20-year thing and with Linus being there and all. But if you're going to the next show, make it the Ohio LinuxFest in September. Bradley Kuhn and Cathy Malmrose are keynoting, so you'll not want to miss that (especially Cathy — Go ZaReason!)
Spending a lazy Sunday at home for a change — thanks to a newspaper colleague who needed Tuesday off (thank you, Kalin) — it might come as a surprise that I found myself at a loss for a topic to write about. So started the usual drill: I always check LXer.com every morning when I wake up, but then went to a couple of other sites, checked my Google Alerts for Linux-related items, and nothing really jumped out at me.
[You might imagine, if you've read this blog regularly in the past, that "nothing really jumped out at me" usually translates to "nothing caused me to get so rabidly incensed that I had to ask someone for a spatula to scrape myself off the ceiling." But I digress.]
Then I went to DistroWatch.com because, frankly, I hadn't been there in awhile. For those of you who are interested in all things FOSS, DistroWatch is an interesting place to not only keep up with which distros are peaking and ebbing in the great scoreboard of FOSS, but also to see who has released what when, and sometimes, why.
I decided to take a look at how many active distros — including those which also are Solaris- and BSD-based — there are as of today, July 31. It's down a bit since I last looked, which has been literally several years ago.
We're "down" to 324, and if memory serves, the last check I did had the active number in the 350s.
This always kick-starts the "how-many-distros-do-we-really-need" debate, which I have always considered a non-starter. I've crossed verbal swords in the past with others who say that a figure like 324 is insane, that there are too many distros available and that there should be much fewer distros so we don't have to bend our brains having to choose.
I say 324 — or whatever the number is or becomes — is a perfect number, and that external forces should decide how many Linux/Solaris/BSD distros there are. These external forces, of course, are both driven by market and Darwinian factors. You make a good, solid distro, foster a good team and growing community around it, the project moves up the DistroWatch list and — ping! — profit. Conversely, you don't make a good distro, and these forces — especially the Darwinian one — puts you where you belong.
The reality is that out of the 324 active distros listed on DistroWatch, there are probably between 35 and 50 that will be usable by the general public; that is, those whose computer abilities may end at pointing and clicking. And that's OK, too. I'd just as soon put my mother in a flaming box of dynamite as I would have her use Phayoune Linux on her desktop. [Phayoune users note: Do not flame me -- I am only using your distro as an example in this case. I am sure it's a wonderful distro for those using it in Thailiand, but the point here is that not all distros are for everyone, and that Phayoune may not be for my mother since she's not Thai, for starters.]
[Oh, and Mom, I would never EVER put you in a flaming box of dynamite. No, really Mom. I swear.]
Or here's another way of putting this in perspective: Don't look at the list on DistroWatch and make a list of as many distros that come to mind. How many did you get? Ten? Thirty? More? Well, the more you can name, the more in tune you are with what's going on, FOSS-wise. Don't consider that a challenge, but just as an indicator of which distros are doing some heavy lifting in the FOSS realm and, in the grand scale of things, are getting things right. Bear in mind, too, that just because you can't name a distro, it doesn't mean that it's not useful or important in its own way; especially if that particular distro is specialized or based on a particular language or culture (see Phayoune, for example).
But the number of distros — whatever it might be — is what it should be.
This blog, and all other blogs by Larry the Free Software Guy and Larry Cafiero, are licensed under the Creative Commons Attribution-NonCommercial-NoDerivs CC BY-NC-ND license. In short, this license allows others to download this work and share it with others as long as they credit me as the author, but others can't change it in any way or use it commercially.
(Larry Cafiero is one of the founders of the Lindependence Project and has just started developing software in his new home office. Watch this space.)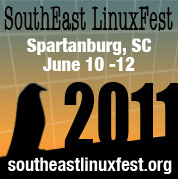 Linux for the GNU South — it's coming up so attend if you can.
Lists: We all make 'em and, judging by what appears on LXer.com, we all read 'em. A great majority of them are worthwhile and informative; others, not so much.
Over the last few months, I've noticed an uptick in the number of "Top $NUMBER List of $VERY_COOL_PROGRAMS" on LXer.com and thought that perhaps a list of the best lists might be helpful to navigate these uncharted waters.
Doing this list David Letterman style, we'll start at 10 and work our way down to the Number 1 Linux list over the last few months. Ready?
10. 8 of the Best Free Astronomy Apps — An excellent list for those into astronomy: What could be better than free star charting apps? Me, I'm all in on KStars. Thank Steven Epps for this — many of the lists you'll find in the ether of the Internet come from him.
9. Fedora 15's Five Best Features — This review by Steven Vaughan-Nichols should be renamed "Five Good Things about Fedora 15 and a Song of Despair" (with apologies to Pablo Neruda), since he starts out by bemoaning (rightfully) the shortcomings of GNOME 3, and then following up with a list of five good things about the release.
8. 31 Great Tutorials for Inkscape — You might as well call this the Baskin Robbins of Inkscape tutorials, and the Unixmen, who normally have some good tutorials on hand, give us a veritable ice cream store of knowledge on this great software.
7. 7 of the Best Free Linux GPS Tools — Another list from Steve Epps. A program can be found here to let you know where you're going and where you've been.
6. Five Must Have GNOME Shell Extensions — If you're running Fedora 15 with GNOME 3, this list will come in handy.
5. 5 things I like in Ubuntu 11.04 (Unity) and 10 things which I don't — Dark Duck likes and dislikes several things about Natty Narwhal, and the interesting perspective here is that some of the likes and dislikes are the same.
4. 9 Good CD and DVD Burning Tools for Ubuntu/Linux — While these aren't necessarily soley Ubuntu tools, it provides a good list.
3. Top 6 Quicklists for Ubuntu 11.04 Natty to Enhance Unity Launcher Functionality — … and if you said that all in one breath, you get a prize. Manuel Jose seems to be on top of all things Ubuntu, and he gets a prize for providing adequate alternatives for Unity users.
2. 7.5 Reasons to Look Forward to Fedora 15 — Joe "Zonker" Brockmeier adds a list of things that, at the time, were coming up in the now-released Fedora 15, and the half-point goes to . . . nope, no spoiler alert here.
Which brings us to the top Linux list of the past few months, brought to you by LXer.com:
1. 70 Open Source Replacements for Small Business Software — In a word: Damn.
Got an item I missed? Pass it on.
(Larry Cafiero is one of the founders of the Lindependence Project and has just started developing software in his new home office. Watch this space.)