Archive for the 'LXer.com' Category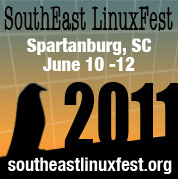 Linux for the GNU South — it's coming up so attend if you can.
More than one person — several actually, none of whom will be named here, to protect the innocent — asked me recently, "Did you see Carla Schroder's article in LXer.com on Ubuntu?"
I did. In fact, all ego aside (and we'll wait a few minutes until we've had a chance to move that large thing aside), I may have had a hand in this through my contribution to a LXer.com forum item where I said:
"If you'll permit me a tangent, is Ubuntu "ashamed" to call itself Linux? If you go to their Web page, on the main page you won't find the word "Linux" anywhere. I finally found it on an "About Ubuntu" page in the second or third paragraph. If you go to the openSUSE main page, Linux is there; same with Fedora and Debian (though Debian goes the GNU/Linux route).
Just wondering aloud . . . ."
Later, if you're reading along with us on this forum, Carla Schroder (a.k.a., tuxchick) says:
"Ubuntu has many good points, not the least of which are kick-starting serious effort in making a really good desktop Linux, making inroads into the commercial computer market, genuinely welcoming new contributors, and inspiring hosts of respins and derivatives. Think back to the pre-Ubuntu days– Debian releases were stretching out ever longer (over three years!), Mandriva is perennially in crisis, Red Hat is uninterested in the consumer market….hmmm, methinks I spy an article in this subject." (emphasis added)
So I'll take a bow for contributing to the inspiration behind Carla writing this article, which is outstanding. Its outstanding nature outshines the fact that there are a couple of minuscule glitches in the article itself — one is that while Red Hat may not care about the desktop market, it established Fedora Core and the Fedora Project at the same time it "went enterprise" (not terribly clear in the article), and Fedora started roughly a year before Ubuntu came along. Also, for all the great things it rightfully says about Ubuntu — let me repeat that, for all the great things it rightfully says about Ubuntu — it still doesn't address the community's lack of technical contributions back to the greater FOSS community, for starters.
But let's not go there now.
Let's talk instead about how being respectfully critical or showing calm and reasoned dissent contributes to the greater good of all — for those being criticized as well as for those making the observations. Let's talk about taking what's being said at face value rather than looking into a subtext that more than likely doesn't exist.
Bear in mind: When done for the greater good, dissent is not disloyalty.
I'm an Ubuntu user; though it's not my primary distro of choice, I still use it on a variety of machines. My daughter is an Ubuntu user, and it is her distro of choice, as outlined in our UpSCALE talk (Mimi and I are at the 27:23) at the Southern California Linux Expo this year.
As noted here and elsewhere, I have had differences of opinion regarding how Ubuntu does things, and I have been critical of the credit Ubuntu wrongfully gets for technical contributions made by others. Until this changes, I will continue to be critical of Ubuntu, just as I am critical of Fedora — which is my distro of choice, though I am no longer officially a part of that community — and openSUSE and any other distro or community when criticism is warranted.
My purpose in bringing up shortcomings is to have those in a position to do so correct them — and if I can, I will correct them myself — rather than to berate those doing what I think is misguided or just wrong.
Also, it should be noted that I have also been known to heap praise on those communities that deserve it, bearing in mind that a distro that gets praise one day for doing something good for FOSS may get criticism on another for doing something not-so-good.
The fact of the matter is I don't expect Ubuntu, Fedora, openSUSE, Debian or any other distro or FOSS program, to be perfect. I do, however, demand distros and communities to live up to the higher standards that we as FOSS users and advocates have set — the most basic of which is that everyone contributes and everyone benefits — and I don't find this an unreasonable position.
So next time you find someone being critical, ask yourself whether the criticism is valid and if there is a solution to this criticism, other than an ad hominem response (yes, I'm looking at you, Mark Shuttleworth).
Oh, and critics: It's good to have a solution to go along with your critique. Admittedly, I should do this better, and promise to do so going forward.
(Larry Cafiero is one of the founders of the Lindependence Project and has just started developing software in his new home office. Watch this space.)


Categories:

Carla Schroder, Debian, Fedora, LXer.com, Mark Shuttleworth, OpenSUSE, Ubuntu
Carla Schroder, Debian, Fedora, GNU/Linux, linux, LXer.com, OpenSUSE, Ubuntu
[Note: I wrote this in the LXer.com forum in response to Jeff Hoogland's blog posting on #fedora that was linked to LXer.com. I did spell out "asshat" below, where I did not do that in the forum posting. Jeff's blog item is here, and I would invite everyone to read it first before reading my response below. Or not. It's up to you. Also, I fixed the link to the Eric Raymond/Rick Moen tome that's worth a read as well.]
Truth in advertising disclaimer: Many of you already know that I have been an active participant in the Fedora Project for several years; for those of you who don't, that secret is now out (and, man, do I feel relieved admitting it!). I have also been a regular in many IRC channels, both Fedora and non-Fedora related, though I am not a regular in #fedora — in fact, I avoid #fedora for the same reasons Jeff outlines in his self-proclaimed "rant."
That said, Jeff accurately points out a situation that has been a sticking point, and one that is being addressed and corrected, in the Fedora Project around the types of caustic responses that sometimes come up in #fedora. Also, while I don't frequent the channel and usually find answers to my questions elsewhere — a good practice (and more on this later) — I can say that it's something that has caused some of us in the Fedora Project some concern.
However — and you knew that was coming — just as an observation on my part, it appears Jeff shot from the hip on this one rather than giving it some thought before writing.
Believe me, I am not casting the first stone against this "sin" — I speak from experience here: lots of experience in which I have fired off unretractable words that a walk in the redwoods or shooting a few hoops would have tempered into something more reasonable and justifiable.
So, Jeff, with apologies, I think your blog goes over the top in the following ways:
a.) #fedora has not cornered the market in asshats by any stretch of the imagination, despite our mutual experience in this particular channel. The cantakerous tards who have an inflated self-worth exist in most IRC channels in every distro across the board — maybe not in Bodhi, if their leader has any say in it (I sincerely hope) — but I think it's more the nature of things like how IRC operates as well as a wake-up call for the need for change, positive change, in this regard.
b.) It's a little myopic to judge the performance of a distro by the people "representing" it (and, arguably, any bad experience in any distro-related IRC channel does not accurately reflect the community as a whole, but rather reflects personality flaws in those responding to questions, regardless of whether they're chanops or not). If that were the case, I would never, ever, EVER use PCLinuxOS, since I have had the same experience seeking information from them that we have had with Fedora (and I do have a box in the lab with PCLOS).
c.) An aside: When I first started using Linux, I was told to read this tome by Eric S. Raymond and Rick Moen: "How to Ask Questions the Smart Way" which lives here:
http://www.catb.org/~esr/faqs/smart-questions.html
(You may have to copy/paste the link above — there is no space before the ~ though each posting insists on inserting one)
Why this isn't a README in all distros is a mystery, but it should be. I am not suggesting that Jeff asked the wrong question here, but often times questions are not asked in the most efficient or direct way. But as Jeff points out in his blog, we don't know the circumstances that the user is facing in finding out an answer, but it does help immensely to ask the right question. Immensely.
d.) Another aside: I can't imagine Jared Smith of Fedora or Jono Bacon of Ubuntu firing off a rant like this. As a project leader for what I think is an up-and-coming distro, I hope you understand, Jeff, that as a project leader, you're in the bigs now and what you say and do reflect on your project for better or worse.
For those of you who have gotten this far, thanks for staying awake. I'll now put on my Nomex and feel free to flame away.
(Fedora ambassador Larry Cafiero runs Redwood Digital Research in Felton, California, and is an associate member of the Free Software Foundation. He is also one of the founders of the Lindependence Project.)


Categories:

Bodhi Linux, Eric Raymond, Fedora, Jared Smith, Jono Bacon, LXer.com, Rick Moen
Bodhi Linux, Fedora, FLOSS, FOSS, Free/Open Source Software, GNU/Linux, Jared Smith, Jeff Hoogland, Jono Bacon, linux, LXer.com
As the sun makes its way over the Santa Cruz Mountains on a Tuesday morning — don't forget the Farmers Market and the Organic Software table in Felton, folks! — the daily ritual of dragging myself into a new day begins.
Coffee. A look at the news around the world. Then the important stuff: LXer.com for the news of all things Linux/FOSS.
[Incidentally, our friends at Google need to look at something, and I'll bring it to their attention later. Maybe I'll drop a line to WordPress, too. It seems that no matter how I tag my blog, the only way I can get the Alerts to pick up Larry the Free Software Guy for the benefit of those searching for "Linux" is to put "Linux" in the title. Selfish, I know, but maybe you should get used to seeing Linux in the title of upcoming blogs.]
Meanwhile, back at the blog: Here are a few things that caught my eye this morning:
Antiquated? Phoronix publishes an article entitles "How an Old Pentium 4 System Runs with Ubuntu 10.04, 10.10″ and their description of "old" is, "This antiquated system has an Intel Pentium 4 2.8GHz CPU, 512MB of RAM, an 80GB IDE hard drive, and an ATI Radeon 9200PRO AGP graphics card." Antiquated? Are you kidding me? That's about as antiquated as a 2006 BMW. C'mon, Phoronix — either do better editing or give us something really antiquated, like a Pentium with Roman numerals.
Ground-floor opportunity, unlimited potential: The VAR Guy writes about the health care track at OSCON next week in Portland. "The health care sector is set for a technology-driven transformation as the federal government pushes adoption of electronic health records and pursues national health information exchange. Hardly surprising, the Open Source Convention (OSCON) has a health care track that will focus on open EHR/EMR software and the government's standards-based Nationwide Health Information Network (NHIN) among other topics. What's in it for VARs? Here are some clues." And the clues follow. But as those who know me know how I can drone on about this, I think health care software is a huge opportunity for FOSS developers, not to mention making open source inroads in an industry that needs to be in the public domain in the first place, and it's nice to hear it from someone else.
Oh, and it's not dead yet: While this wasn't in the news today, I've finally gotten over the eye-rolling aspect of, yet again, SCO not fully grasping basic legal tenets in losing yet another case and now plan to appeal Judge Ted Stevens' ruling upholding a jury verdict made after oral hearings that Novell had retained the copyright to Unix when it sold its Unix business to SCO. According to this brief item on H online, it's not over yet and the partners at Boies Schiller & Flexner LLP have taken Stick A to beat Dead Horse B.
Felton Farmers Market, 2-6:30 p.m., St. John's Church parking lot, about 3/4 mile south of the traffic light on Highway 9 (all the directions you need in Felton). And don't forget — Major League Baseball All-Star Game is tonight. Go National League.
(Fedora ambassador Larry Cafiero runs Redwood Digital Research in Felton, California, and is an associate member of the Free Software Foundation.)