Archive for the 'OpenOffice.org' Category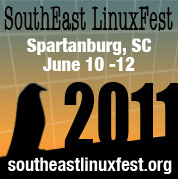 Linux for the GNU South — it's coming up so attend if you can.
Make no mistake: There's a lot out there to write about, obviously — The OpenOffice.org handoff to Apache, the trials and tribulations of desktop environments and their continual dumbing-down for the dumbest of us, and other stuff. I'll get to that later, as well as those in Santa Cruz getting a treat later this month with networking professor Rick Graziani from Cabrillo College taking time from the surf — the real surf, with a surfboard as opposed to a motherboard — to explain IPv6 to us.
I still have a few scripts and assorted code, with the Python book close at hand, which will someday be a Facebook app called "Lifeville" — it tells you that you're spending too much time on the computer, gives you two minutes to save what you're doing, signs you out of Facebook and then a minute later (just in case you forgot something) shuts down your computer — but not before giving you a message: "Do you use your powers for good or for awesome?" That last quote comes from Fedora Ambassador mentor and all-around good guy, the soon-to-be Rev. Scott Williams.
So despite the weather being quite screwy — even here, at least until today — if you look out your window and see it's a nice day and the only thing you're doing right now is reading this blog or being involved in some other frivilous digital endeavor (wait, let me rephrase that . . . .), shut down your computer and get outside.
I'll make you a deal: If you are lucky enough to have a nice day and you have the time to go outside, I promise to blog later on regaring the items above. I'd do it now, but the day here is too nice.
(Larry Cafiero is an associate member of the Free Software Foundation. He is also one of the founders of the Lindependence Project.)


Categories:

Apache, GNOME, GNU/Linux, LibreOffice, linux, Linux, OpenOffice.org, Scott Williams
Apache, GNOME 3, GNU/Linux, linux, Scott Williams, Unity
Colonel Panik, my good friend and constant commenter to this blog, asked me to give you all some insights about what we're finding at the Felton Farmers Market every Tuesday.
An order is an order, and Bob does outrank me.
So here's what we're finding in Felton:
More people are using Linux than come to the Felton LUG meeting: We've encountered roughly a dozen people in two weeks who live in Felton who use Linux who we've never seen at a meeting. My oft-echoed question, "Have you heard of Linux?" has been met with a constant "Yes," and many of the people who have, and who have used (or are using) it are already using Ubuntu. I like to think this has something to do with the Lindependence events back in 2008, not to mention the Software Freedom Day events we've had here since 2007, but there's no hard evidence to back this up. It's just a hunch.
Most people are looking for digital alternatives: There are only a handful of people — I can only think of two in two weeks that we've had the table — that have no interest in FOSS after explaining what it is. In fact, a lot of people are looking for alternatives to the laundry list of maladies that accompany their daily Windows experience. In fact, easing them into FOSS with the OpenCD is a good way to introduce them to programs like OpenOffice.org and GIMP, and eventually we can get them to change operating systems to something — oh, I don't know — free as in freedom and price?
". . . I haven't used it, but my $FAMILY_MEMBER has": This is a common response by those who have not used Linux/FOSS themselves. This is a promising sign. Even though they may not be using it, at least they're aware of it. Those who went home with a disk hopefully will know more about it and come back the following week with questions.
There are other things that amaze me: The Google engineer who stopped by the table — "Oh, I'd better know what Linux is." — and others who work "over the hill," as we call the Silicon Valley, who would stop with strawberries in hand to take a look at what we had, and take a disk or two to try out. Also, what amazes me is that a lot of youngsters — teens, of course — who have used FOSS and don't mind spending their time at the table talking about things like "Will GIMP ever have only one window?"
Thanks for helping at the booth so far go to: Bob Lewis, my partner in Felton LUG organizing, who is one of the most sensible and passionate Linux evangelists I know; Karsten Wade, who brings his vast knowledge and rapier-quick wit, and OpenSource.com swag, to the table; Frank Adamson, the Ubuntu-using octogenarian who took his daily mile-walk to come to staff the table; and to Peter Belew, for making his talents available at the table.
See you next Tuesday. Coming up next: Reports from OSCON.
(Fedora ambassador Larry Cafiero runs Redwood Digital Research in Felton, California, and is an associate member of the Free Software Foundation.)


Categories:

Fedora, GIMP, GNU/Linux, linux, Linux, Microsoft, OpenOffice.org
Felton, Felton Farmers Market, GIMP, GNU/Linux, linux, Microsoft, OpenOffice.org, Windows
As previously mentioned in this blog — and as I tell anyone who'll listen to me — I go back and forth between the two top desktop environments with Fedora on my Fujitsu laptop — the even numbers, as it turns out, have been GNOME and the odd (with nothing to read into this, honest) have been KDE. Since we're now at Fedora 13, it's KDE time.
For those Xfce, LXDE, Fluxbox and IceWM fans out there, I do have machines in the Jungle Room — the lab at Redwood Digital Research in Felton, Calif., named after the same room at Graceland — running those desktops. While I'm a huge fan of Xfce on the machines that run it, I normally don't stray too far from GNOME and KDE.
Moving right along, though, in those instances where I use KDE on the laptop, I've always been impressed with the number of programs that KDE includes when downloading the KDE version of Fedora. This time around, it occurred to me that maybe I should give some of them a chance — rather than just downloading the programs I'm used to (OpenOffice.org, Firefox, Thunderbird, etc.) during the post-install phase — I should give the K its due.
But I downloaded the programs anyway. I wanted to do a comparison to see how the KDE software stacked up against the software I normally use across a variety of machines running other desktops. Bear in mind, too, that since I use KDE only six months at a time, I am clearly not an expert on it, and if I've missed something, by all means I'm open to correction.
Before I start, I want to sing the praises for most of the programs I've run that are KDE-native, and single out a quartet of KDE-native programs — specifically K3b, Dolphin, KPackageKit and KColorChooser. The first three have always been very cooperative, have been easy to use and have worked well; the fourth came in handy recently in tweaking a Web site.
Conversely, there are KDE-native programs I don't understand. The top candidate here is Kget — what the hell is that big bouncing disk doing in the center of my desktop? — and it begs the question: Why have it when you can use KPackageKit?
So, without further adeiu and with a little fanfare, allow me to wave the green flag on a comparison and contrasting of programs supplied by KDE against those that aren't.
KWord/KPresenter vs. OpenOffice.org Writer/OpenOffice.org Impress: KDE gets an A for effort on this one. Though not as slick as the OO.o Writer, KWord does open other files and offers the option of exporting a document to a Portable Document Format file (a clear advantage that both have over any Redmond product) and it performs admirably when used. The downside of KWord is that you can only save a document in one format — albeit the most important one (.odt) — whereas with OO.o Writer you can save it in various formats, even if need be in WordStar (which is a Solaris holdover, I know, but still). OO.o Writer also has a huge library of templates for use.
KPresenter, however, stands shoulder to shoulder and goes the distance with OO.o Impress on usability and functionality, to the point where in the past I've actually given talks using my Impress file running, unbeknown to me until later, on KPresenter. Like KWord, the slickness factor is lacking in KPresenter, but all the trappings for making a great presentation are there.
Advantage: OO.o Writer clearly over KWord, but KPresenter and OO.o Impress tie.
Konversation vs. XChat: While I get a handle on Irssi, I should say that I've always been a XChat user. Go ahead and mock me with the training wheels jokes, but it has served my purposes well over the past several years, to the point where I never used Konversation when running the KDE desktop. Konversation v1.2.3, however, may eclipse XChat for my IRC purposes. Its ease of configuring is a huge plus, as is its putting action messages on the screen you're in as opposed to in the server screen only (i.e., when you mark yourself away in XChat, for example, it appears only on the server window; in Konversation, it appears on the window you're in — minor, I know, but enough to sway the simpletons like yours truly).
Advantage: Konversation (but we all know that Irssi is what the cool kids use).
KMail vs. Thunderbird: I have used Thunderbird since it's inception. I like Thunderbird. No, let me rephrase that: I love Thunderbird. So analyzing this one may not be fair, but using KMail to get my fedoraproject.org mail on the laptop has been a pleasant surprise. One feature that takes getting used to, but is logically sound and advantageous once you get the hang of it, is that KMail will nest responses to e-mails, tree-like, under the previous topic's message. To me, it was disconcerting at first, but once I got used to it, it becomes a huge time-saver in following e-mail threads. Being able to see the details of an e-mail by running the cursor over it is also a plus.
Advantage: Thunderbird, because we have a history, but KMail gets high marks and more than likely I'll continue to use it after Fedora 13.
Konqueror vs. Firefox: I really want to say something nice, and find something I genuinely like, about Konqueror. Really and truly, and cross my heart, with all my being I truly hope someday to find something to like. But other than it's an adequate file manager and document viewer, it really stops there and I can't say much more for it. Meanwhile with all the other browsers out there — coupled with the fact that KDE comes with Dolphin (a file manager) and Okular (a document viewer and an outstanding program that, unfortunately, I had nothing to compare it with) — Konqueror seems to be just a niche browser compared to others.
Advantage: Firefox, by default.
Meanwhile, you can still go get Fedora 13 here. And don't be afraid to go try the KDE spin, if you're thinking about it.
(Fedora ambassador Larry Cafiero runs Redwood Digital Research in Felton, California, and is an associate member of the Free Software Foundation.)


Categories:

Fedora, GNU/Linux, KDE, linux, Linux, OpenOffice.org, Xfce
Fedora, GNU/Linux, Irssi, KDE, KMail, Konqueror, Konversation, KPresenter, KWord, linux, OpenOffice.org, Thunderbird, XChat