Posts Tagged 'GNOME'
Yes, I know LinuxCon is next, and that's in mid-August, but I think they've got the publicity thing covered, especially with the 20-year thing and with Linus being there and all. But if you're going to the next show, make it the Ohio LinuxFest in September. Bradley Kuhn and Cathy Malmrose are keynoting, so you'll not want to miss that (especially Cathy — Go ZaReason!)
Until recently, I had several of my lab machines using GNOME — until my hardware and I were relegated to second-class status by being only able to use the GNOME 3 Fallback Mode while the rest of the world went on its merry way using GNOME 3. But in the grand scheme of things, that's OK: Regular readers of this blog also know that in the recent past I have taken both GNOME 3 and Unity to task for bailing on already experienced users in an effort to dumb down the desktop for those who are new to Linux.
Of course, the woe I documented in past blogs about it is nothing compared to the choice words Linus Torvalds has for GNOME 3.
As widely reported by ZDNet and others, Linus had some — how can we put this tactfully? — issues with GNOME 3, which he outlined in a Google+ message.
Also, as Steven J. Vaughan-Nichols points out in the ZDNet article linked above, the request by Linus to fork GNOME 2.x "started in a public Google+ posting by Dave Jones, a Red Hat engineer and one of the maintainers of Fedora Linux, where Jones announced some minor Linux kernel news for a Fedora update. As the discussion continued, Torvalds joined in and remarked, 'Could you also fork gnome, and support a gnome-2 environment? I want my sane interfaces back. I have yet to meet anybody who likes the unholy mess that is gnome-3.' "
Well, now . . .
As just about everyone in FOSS knows, Linus is not one to mince words. Not only this, there's a Wikiquote page that backs up this assertion.
But it's not like Linus T. becomes Mr. T when in disagreement. Since he is particularly charming and well spoken in person, I would think those words coming from him verbally would not have the same edge as they do when you read them on the screen. Opinionated as he is, it doesn't appear that Linus is a jerk about taking a stand on an issue, which cannot be said for everyone in the FOSS realm.
I like to think that the GNOME 3 situation is one that's akin to what happened with KDE 4: The latter had a rough start before levelling out to a pretty decent KDE 4.7. For GNOME's sake, I just hope this is a repeat of KDE's experience. Though it appears that GNOME 3 has done something significantly radical in this new desktop, I think the curve for "correction" — for lack of a better term — could be more steep.
But as I've mentioned in past blogs, GNOME 3 — and to a great extent, Unity — and their attempts to dumb down the desktop were a mistake from the start. Whether that gets fixed or not remains to be seen.
Now to get those "Linus T. speaks for me!" T-shirts and buttons produced and out . . . .
This blog, and all other blogs by Larry the Free Software Guy and Larry Cafiero, are licensed under the Creative Commons Attribution-NonCommercial-NoDerivs CC BY-NC-ND license. In short, this license allows others to download this work and share it with others as long as they credit me as the author, but others can't change it in any way or use it commercially.
(Larry Cafiero is one of the founders of the Lindependence Project and has just started developing software in his new home office. Watch this space.)


Categories:

GNOME, GNU/Linux, Linus Torvalds, Steven J. Vaughan-Nichols, Ubuntu, Unity
GNOME, GNU/Linux, Linus Torvalds, linux, Ubuntu, Unity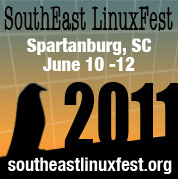 Linux for the GNU South – Attend if you can.
A lot has been written on GNOME 3 and, truth be told, I don't have the digital horsepower (yet) to run GNOME 3 to give an adequate assessment. I think I get what they're trying to do and, to be honest, I'm not sure I agree with the direction GNOME is taking here.
Juan Rodriguez is taking the proverbial bull by the horns and has initiated a project called BlueBubble, which marries GNOME 2.32 to the newly released Fedora 15, "breaking the least amount of packages possible."
What it does, essentially — or at least in Rodriguez's opinion — is bring the best of both worlds: Fedora 15 plus the latest version of GNOME before 3.0. The future, he says, can wait.
Rodriguez says that the target audience is the same kind of people who wanted the "Old Coke" to come back when Coca-Cola introduced "New Coke" unsuccessfully decades ago.
He's also seeking help on this, so if you're really enamored with GNOME 2.32 and want to see it continue on the Fedora 15 and Fedora 16 versions, contact him — he can be found in many of the Fedora channels on Freenode IRC as "nushio"
Not only this, they already have a cool logo and video.
Go for it, Juan!
(Larry Cafiero is an associate member of the Free Software Foundation. He is also one of the founders of the Lindependence Project.)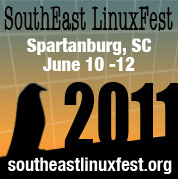 Linux for the GNU South – Attend if you can.
During her visit to Budapest where she was part of the Ubuntu Developers Summit, Linux Pro's associate publisher Rikki Kite posted this on Facebook:
"My geeky friends who pronounce 'gnome' as 'ga-nome' and 'gnu' as 'ga-new' might appreciate this -> I saw gnocchi on the buffet at UDS and said, 'Oh, good, ga-no-kee.' I ka-new it sounded wrong as soon as I said it."
To which I reply to Rikki: You mean that's not how you pronounce it?
Personally, I blame Richard Stallman. It's an affliction that affects geeks on our side of the proverbial aisle: The "G" factor, where a normally silent letter gets pressed into phonetic service, well, for a couple of reasons. First, because it's there (and from an engineering standpoint, why would it be there if it wasn't going to be used?), and secondly, because we're used to the fact that GNU and GNOME have the "g" — how can I put this? — unsilent, and we've been trained, or brainwashed, into putting the "g" in there where it doesn't belong.
It's bad enough the little guys in the garden are guh-nomes — even after the recent movie "Guh-nomeo and Juliet" — but there are other places where this arises.
For example, I had to wail and gnash — pronounced guh-nash, right? — my teeth at the various grammatical and spelling errors (not to mention the Giants blowing a four-run lead to the Dodgers) while working at the paper last night.
Surfers in the area, as well as elsewhere, consider things "gnarly" without the "g" sound; except some in Santa Cruz who also use Linux/FOSS and say "guh-narly," dude.
To say nothing of the fact that we have no pesky gnats — yep, there's a "g" in there, making it guh-nats — flying around in these parts, but I used to have to deal with them elsewhere.
Anyway, while there may be a cure for this, or at least a 12-step program ("I'm Larry, and I'm a G-oholic" — "Hi, Larry"), I think the better course of action would be to alert the non-geeks around you that you're going to be using all the letters in the words you use, save for the silent "e" and the silent "k" in "kn-" words.
(Larry Cafiero runs Redwood Digital Research in Felton, California, and is an associate member of the Free Software Foundation. He is also one of the founders of the Lindependence Project.)


Categories:

Facebook, GNOME, GNU, GNU/Linux, Linux Pro Magazine, Ubuntu, Uncategorized
GNOME, GNU, GNU/Linux, linux, Linux Pro Magazine, Rikki Kite