Posts Tagged 'GNU'
OK, it's crunch time. At the end of the week, you should be in Columbus, Ohio, at Ohio Linux Fest –if you're going to a Linux show before the year's out, make it this one. This is the last big show on the North American continent until SCALE in January. At OLF, Bradley Kuhn and Cathy Malmrose are keynoting — along with Jon "maddog" Hall — so you'll not want to miss that (especially Cathy — Go ZaReason!).
Many of you already know this, but for those of you who don't, I don't do tech for a living. I'd like to it for a living, and I'm working on that. This is why you'll find me with my nose in a book, studying for the Red Hat Certified Engineer certification test I'll take someday (and, if I ever scrape up enough money, Red Hat classes).
What pays the bills — what I've done since my first day on the job at The Miami Herald on President Carter's inauguration day (yes, I'm that old, and get off my lawn) — is newspaper work. I currently work as a copy desk editor at the Santa Cruz Sentinel, but it's a news career that has spanned three decades, three different media (print, TV and radio) and two continents.
I am a third-generation man of letters: My father was also a newsman and his father was a mailman.
I bring this up because at the Sentinel I am known as the Grammar Hammer; a moniker which I am honored to have and one that I constantly strive to live up to. I have a three-pound sledge at my desk. I wield it with the same conviction and passion that Thor might wield his hammer, only instead of vanquishing bad Nordic guys, I'm vanquishing bad grammar and spelling.
As you might imagine, I spend a lot of time reading; more than I spend writing, as a matter of fact (isn't that always the case?). In much of the tech realm — most in forums and comment sections — the spelling and grammar aren't always what they should be for people who, generally speaking, are smarter than the average person (and sometimes are smarter than the things they say. But I digress . . .). In the grand scheme of things, that's OK — I'm not really that interested in picking nits, gramatically speaking, as much as I am concerned with content.
[Note to those who speak English as a second-, third- or fourth-language. This does not apply to you, and thanks for making the huge effort to communicate in tech's lingua franca. My hat is off to you, and thank your lucky stars you don't have to communicate with me in Spanish or Japanese, the only other two languages in which I can communicate. I dare not say I "speak" them.]
But there are a few things that drive me up the wall and across the ceiling when it comes to grammatical and spelling morsels I see in comments and forums (and even in tech stories and blogs, albeit rarely), like:
MAC, as in Macintosh: It's not an acronym. Mac is short for Macintosh, the product from the new evil empire based in Cupertino called Apple. It's big-M small-a small-c. Not to be confused with MAC, as in MAC address, which is the Media Access Control address, and the MAC there should be all upper case. The next person who writes MAC to refer to the Macintosh, I'm going to come through your screen with hammer blazing.
It's Xfce, but LXDE: With all the desktop hubbub going on, these two up-and-coming environments sometimes get mislabled. I've seen it XFCE and Lxde, most recently in discussions on the Felton Linux Users Group, which is going great guns in the desktop debate on the mailing list. I've never understood why Xfce is 75 percent lower case, but it is. LXDE, according to its site, is all upper case. Speaking of all upper case . . .
GNOME, not Gnome: This is not a GNOME 3 issue, surprisingly. A general rule of thumb is that if it's an acronym, it's all upper case. GNOME originally stood for GNU Network Object Model Environment, though I understand that this was so long ago in a galaxy far, far away that some want to drop the caps. I can live with "Gnome," but on a purely grammatical stanpoint, I'll keep capitalizing it, thank you. Besides, GNOME folks, do you really want KDE to be the only major desktop environment to be all caps? Fuel, meet fire . . . .
There are more, of course, otherwise I wouldn't be the Linux curmudgeon that you all know and love; at least the Linux curmudgeon you all know. But you get the idea.
All of which is to say, when posting here or elsewhere, let's be careful out there. Dot each i. Cross each t. Don't dangle your participles.
This blog, and all other blogs by Larry the Free Software Guy and Larry Cafiero, are licensed under the Creative Commons Attribution-NonCommercial-NoDerivs CC BY-NC-ND license. In short, this license allows others to download this work and share it with others as long as they credit me as the author, but others can't change it in any way or use it commercially.
(Larry Cafiero is one of the founders of the Lindependence Project and has just started developing software in his new home office. Watch this space.)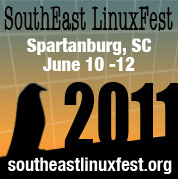 Linux for the GNU South – Attend if you can.
During her visit to Budapest where she was part of the Ubuntu Developers Summit, Linux Pro's associate publisher Rikki Kite posted this on Facebook:
"My geeky friends who pronounce 'gnome' as 'ga-nome' and 'gnu' as 'ga-new' might appreciate this -> I saw gnocchi on the buffet at UDS and said, 'Oh, good, ga-no-kee.' I ka-new it sounded wrong as soon as I said it."
To which I reply to Rikki: You mean that's not how you pronounce it?
Personally, I blame Richard Stallman. It's an affliction that affects geeks on our side of the proverbial aisle: The "G" factor, where a normally silent letter gets pressed into phonetic service, well, for a couple of reasons. First, because it's there (and from an engineering standpoint, why would it be there if it wasn't going to be used?), and secondly, because we're used to the fact that GNU and GNOME have the "g" — how can I put this? — unsilent, and we've been trained, or brainwashed, into putting the "g" in there where it doesn't belong.
It's bad enough the little guys in the garden are guh-nomes — even after the recent movie "Guh-nomeo and Juliet" — but there are other places where this arises.
For example, I had to wail and gnash — pronounced guh-nash, right? — my teeth at the various grammatical and spelling errors (not to mention the Giants blowing a four-run lead to the Dodgers) while working at the paper last night.
Surfers in the area, as well as elsewhere, consider things "gnarly" without the "g" sound; except some in Santa Cruz who also use Linux/FOSS and say "guh-narly," dude.
To say nothing of the fact that we have no pesky gnats — yep, there's a "g" in there, making it guh-nats — flying around in these parts, but I used to have to deal with them elsewhere.
Anyway, while there may be a cure for this, or at least a 12-step program ("I'm Larry, and I'm a G-oholic" — "Hi, Larry"), I think the better course of action would be to alert the non-geeks around you that you're going to be using all the letters in the words you use, save for the silent "e" and the silent "k" in "kn-" words.
(Larry Cafiero runs Redwood Digital Research in Felton, California, and is an associate member of the Free Software Foundation. He is also one of the founders of the Lindependence Project.)


Categories:

Facebook, GNOME, GNU, GNU/Linux, Linux Pro Magazine, Ubuntu, Uncategorized
GNOME, GNU, GNU/Linux, linux, Linux Pro Magazine, Rikki Kite
Ah, love! The Cure's song that carries today's blog title bounces gently off the walls of the office while I think about the things I love about GNU/Linux (or Linux, if you're so inclined).
Like . . .
A multiplicity of distros: Oh, 350-odd (and some not so odd) active Linux distributions in their wide range of uses, even though about 50 of them are relevant and regularly used by the GNU/Linux-using public. Some think that's too many, but I would disagree: Distros are like ice cream, and you pick the flavor that suits your taste (not to mention your needs) and use it. I'd prefer to have hundreds to choose from rather than have a Baskin-Robbins limitation to 33 flavors. [Those who know me know I'm a Fedora guy, but the boxes at Redwood Digital also run Debian (especially on the Macs), Ubuntu, OpenSUSE, and a PII box with AntiX Mepis.] To appreciate the amount of choice we have, a visit to DistroWatch might be in order.
A variety of desktops: Who's limited to what environment appears on our screens? We're not. Thanks to the big daddies — GNOME and KDE (the former which I use most often and the latter which I'm growing to like more over time) — and to those desktop environments which leave the processor's horsepower to more important digital matters — take a bow Xfce and LXDE — we have a wide range of options. Of course, if four isn't enough, throw in IceWM and Flux and . . . .
The busy Beavers at Oregon State: The crew at Oregon State University deserve special mention. Chances are when you download a FOSS program or a distro, it comes to you directly from beautiful downtown Corvallis, Ore., home of the Oregon State University Open Source Lab (well, OK, perhaps OSU isn't downtown per se, but you get the point). Kudos to OSL operations boss Jeff Sheltren and infrastructure architect Lance Albertson, as well as the rest of the OSL's staff, for keeping the FOSS programs available. In addition, the OSL's efforts hardly pale in comparison with the dedication and commitment to FOSS in OSU's Electrical Engineering and Computer Science Department, which is responsible for the Oregon State Wireless Activity Learning Device (or OSWALD). A tip of the hat — a Fedora, of course — to EECS faculty professors Tim Budd and Carlos Jensen for the OSWALD, and great work, all.
Showtime: The various Linux/FOSS shows and expos throughout the year are great to attend — the ones I can make, like the Southern California Linux Expo (SCALE) and OSCON are the ones around which I plan family vacations. Throw in other shows into the mix like the Utah Open Source Conference in October and the other standards like Southeast Linux Fest, the OLFs (Ohio and Ontario Linux Fests), Calgary Open Source Systems Festival (COSSFEST), while tossing in new shows like Texas Linux Fest, and the calendar is full of opportunities to promote FOSS and learn a thing or two if you aren't careful.
My peeps: You all know who you are, and don't think for a minute I'm going to try to name all of you because I'll forget someone and then they'll feel bad and I'll hate myself for forgetting for years to follow. Thank you to those who make everything work across distro, desktop and program borders — you are truly the heroes of FOSS and have my undying respect, gratitude and love.
(Fedora ambassador Larry Cafiero runs Redwood Digital Research in Felton, California, and is an associate member of the Free Software Foundation.)


Categories:

DistroWatch, GNOME, GNU, GNU/Linux, KDE, Oregon State University Open Source Lab, OSCON, SCaLE
Distrowatch, GNOME, GNU, GNU/Linux, linux, Ohio Linux Fest, Ontario Linux Fest, Oregon State University Open Source Lab, OSCON, OSL, OSUOSL, SCaLE, Southeast Linux Fest, Southern California Linux Expo, Texas Linux Fest