Posts Tagged 'OpenOffice.org'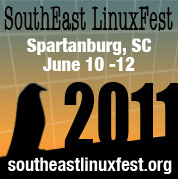 Linux for the GNU South — it's going on right now (if you're reading this the day the blog appears).
Yep, that title — also the name of an album by the Who — is what the British (and, I would imagine, our Canadian neighbors) call bits and pieces; which is what we're going to talk about today since this week was full of news and I have been staring at my living room thinking, "How the &@%*! am I going to move all this stuff?"
A difference of opinion, or . . . ? Ken Hess writes on ZDNet an item about businesses going (or maybe not going) completely virutal here, but wait — maybe you should keep one or two just in case the cloud dissipates. Contrast this laugher to Caitlyn Martin's response here, where she calls this "the most ridiculous article I've read in a very long time." Me? I side with Caitlyn — clearly. This is not the first head-scratcher Hess has produced, nor will it probably be the last. A corollary to this is Andy Updegrove's ominous look at a "cloud-free" future forced upon us here.
Dead horse, meet foot: I've been giving a lot of thought to the OpenOffice.org transfer by Oracle to Apache. I'd like to think something good will come of this, but I think that since joining the two projects seems to be all but impossible (for a couple of good reasons, but some not so good), we can thank the suits at Oracle for screwing up an outstanding FOSS project. Meanwhile, for all those who have an interest in keeping what OO.o started going in the right direction, get right over to the Document Foundation and pitch in.
Name, rank, and serial . . . OK, just your name will do: First, thanks for all those who liked the list blog that ran this week. I need to point out a matter of personal policy on this blog: I don't post responses that are anonymous or come from someone named/called/nicknamed "anonymous" or any variety thereof (i.e., "anon"). I bring this up because I have got responses from people who wouldn't name themselves — two excellent responses that I would like to post — and I've written each of them to ask them to identify themselves so I can post their comments. Initials would work.
Well, I should stop stalling and start packing up.
(Larry Cafiero is one of the founders of the Lindependence Project and has just started developing software in his new home office. Watch this space.)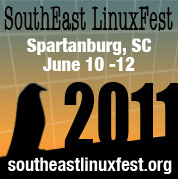 Linux for the GNU South — it's coming up so attend if you can.
A glorious day indeed, filled with a variety of thoughts: While I was out enjoying it, I got to thinking about both the grand-scheme and minutiae goings-on in FOSSland, much of which has everyone asnitter moreso than atwitter.
There's the OpenOffice.org handoff — or as some would put it, the OO.o drop kick — to the Apache Foundation by Oracle. This comes as no surprise. If Oracle were a good FOSS citizen, they'd have given it to the Document Foundation and LibreOffice would be its rightful heir. But this is Oracle we're talking about, right? With Oracle finally washing their hands of OO.o, it remains to be seen what becomes of it. But since the barn door has been open for quite some time and the LibreOffice horse is at home out in the pasture, I am not sure if keeping OO.o around would be worth it.
Incidentally, LibreOffice is an outstanding program which kicks serious butt, just as OpenOffice.org did, and it's nothing short of miraculous that the fork hasn't missed a beat in transitioning from OO.o. So far, that's the story of the year for 2011. I use it. I like it. I'm in their camp.
Walking among the redwoods, it's hard to be annoyed at the new desktop wars: Not GNOME versus KDE, but the systematic "simplicity" of desktop environments like GNOME 3 and Unity. For netbooks and other mobile user interfaces, this may work and may be necessary. I don't use netbooks or smart phones — I use a desktop or a laptop, and I'd like my desktop environment to look and function like a one. Call me old school, but desktops like KDE — which I'm using more and more as of late — and Xfce are looking better and better.
Also, I don't assume that people who are new to Linux are complete morons who need a dumbing down of the desktop environment to convince them to join the ranks of FOSS users. But that's me.
Finally, I live in a great area at the western foot of the Santa Cruz Mountains, the small range that separates the ocean from the Silicon Valley east of here. Not only is the proximity of the Valley a boon, but another of many perks in living here is having folks in the area like Cabrillo College networking professor and Cisco author Rick Graziani. Rick is opening his IPv6 seminars this month to the public — "Everyone is welcome! You do not have to be a former or a current student. All you need is to have an interest in learning more about IPv6 and don't mind listening to me for a couple of hours," Rick writes (though prior knowledge of IPv4 is required).
The talks are Thursday, June 23 — Intro to IPv6 — and Friday, June 24 — Intro to Routing IPv6 — at the horticultural building room 5005 at Cabrillo College, 6500 Soquel Drive, Aptos. Both talks run from 6:30 to 8:30 p.m.
You do need to RSVP to Rick at graziani-at-cabrillo-dot-edu to attend. Tell him Larry the Free Software Guy sent you.
Forrest — Forrest Gump — was right: You never know what you'll get.
(Larry Cafiero is an associate member of the Free Software Foundation. He is also one of the founders of the Lindependence Project.)


Categories:

Apache, Cabrillo College, GNOME, LibreOffice, linux, Linux, OpenOffice.org
Apache, Cabrillo College, GNU/Linux, LibreOffice, linux, OpenOffice.org, Rick Graziani
Colonel Panik, my good friend and constant commenter to this blog, asked me to give you all some insights about what we're finding at the Felton Farmers Market every Tuesday.
An order is an order, and Bob does outrank me.
So here's what we're finding in Felton:
More people are using Linux than come to the Felton LUG meeting: We've encountered roughly a dozen people in two weeks who live in Felton who use Linux who we've never seen at a meeting. My oft-echoed question, "Have you heard of Linux?" has been met with a constant "Yes," and many of the people who have, and who have used (or are using) it are already using Ubuntu. I like to think this has something to do with the Lindependence events back in 2008, not to mention the Software Freedom Day events we've had here since 2007, but there's no hard evidence to back this up. It's just a hunch.
Most people are looking for digital alternatives: There are only a handful of people — I can only think of two in two weeks that we've had the table — that have no interest in FOSS after explaining what it is. In fact, a lot of people are looking for alternatives to the laundry list of maladies that accompany their daily Windows experience. In fact, easing them into FOSS with the OpenCD is a good way to introduce them to programs like OpenOffice.org and GIMP, and eventually we can get them to change operating systems to something — oh, I don't know — free as in freedom and price?
". . . I haven't used it, but my $FAMILY_MEMBER has": This is a common response by those who have not used Linux/FOSS themselves. This is a promising sign. Even though they may not be using it, at least they're aware of it. Those who went home with a disk hopefully will know more about it and come back the following week with questions.
There are other things that amaze me: The Google engineer who stopped by the table — "Oh, I'd better know what Linux is." — and others who work "over the hill," as we call the Silicon Valley, who would stop with strawberries in hand to take a look at what we had, and take a disk or two to try out. Also, what amazes me is that a lot of youngsters — teens, of course — who have used FOSS and don't mind spending their time at the table talking about things like "Will GIMP ever have only one window?"
Thanks for helping at the booth so far go to: Bob Lewis, my partner in Felton LUG organizing, who is one of the most sensible and passionate Linux evangelists I know; Karsten Wade, who brings his vast knowledge and rapier-quick wit, and OpenSource.com swag, to the table; Frank Adamson, the Ubuntu-using octogenarian who took his daily mile-walk to come to staff the table; and to Peter Belew, for making his talents available at the table.
See you next Tuesday. Coming up next: Reports from OSCON.
(Fedora ambassador Larry Cafiero runs Redwood Digital Research in Felton, California, and is an associate member of the Free Software Foundation.)


Categories:

Fedora, GIMP, GNU/Linux, linux, Linux, Microsoft, OpenOffice.org
Felton, Felton Farmers Market, GIMP, GNU/Linux, linux, Microsoft, OpenOffice.org, Windows