Posts Tagged 'OpenSUSE'
There seems to be a mad dash lately of bloggers tripping over themselves to write reviews of Bodhi Linux. Jeff Hoogland and his merry band of developers have come out recently with version 1.2.0 and I've put it through some paces. Overall, I like it, but rather than yet another Bodhi review getting lost in the shuffle, I thought I'd put that one off for another time.
I have a MicroPC TransPort T2200 laptop on which I change distros as often as I change socks. OK, that's an exaggeration, but it is pretty much a test bed for distros I try out.
Several days ago, I was thinking about how I had not really done a lot with Slackware-based distros other than OpenSUSE. I looked for the latest version of Wolvix, which I had written about a few years ago, but found it was discontinued. This is unfortunate, because while writing that blog item a few years ago, I got the sense when talking to lead developer and new-dad-at-the-time Kenneth Granerud that he was on to something.
So after doing a few laps on Distrowatch.com, I settled on Salix, a Slackware-based distro from Europe. According to its Web site, Salix is a linux distribution based on Slackware "that is simple, fast and easy to use."
No truer words were spoken. After a relatively quick download and installation, Salix flies on the MicroPC laptop.
I opted for the Fluxbox version of the distro — it also comes in Xfce, LXDE and KDE flavors — and the lightweight window manager version does not disappoint. While it might be objectionable to free software purists (and I'm a little flexible on this issue, though I'd prefer the decision of installing it be given to the user), the presence of Flash on the distro out of the box is a plus for those who want to get online and straight over to YouTube. With the Gslapt Package Manager, you can dig around for programs you'd like to add.
It's refreshing when you don't have to pop the hood right away. Right out of the box, so to speak, the distro ran flawlessly. Connectivity is a snap, and there have been no glitches with the wireless since using Salix. I added Conky because I enjoy having a rundown of what's going on beneath the keyboard that sits on my desktop, and I also added Irssi, because that's what the "cool kids" use to talk on IRC. Why these two programs aren't already included on distros — I've only encountered Irssi being native on Debian — is a mystery.
As a matter of personal preference, I changed the cursor. I have seen this before on Fluxbox-based distros: It comes with the cursor that has a large black arrow and I prefer the smaller white one. With this exception, there was nothing I needed to tweak right away.
Again, I can't get over the speed of this distro. Salix flies on this laptop, even with multiple programs running simultaneously. I cannot say that for every distro that has graced this laptop. Salix is clearly one of the better distros I've come across.
I am not completely up to speed on Fluxbox and its nuances, but I'm getting there. In the hubbub that is known as the current desktop environment soap opera, I'm starting to like window managers more, and you may find that more distro test drives will include them.
The symbol for Salix is the bonsai. Like a bonsai, Salix is small, light and the product of infinite care.
If you have the time and the inclination, give it a try.
This blog, and all other blogs by Larry the Free Software Guy and Larry Cafiero, are licensed under the Creative Commons Attribution-NonCommercial-NoDerivs CC BY-NC-ND license. In short, this license allows others to download this work and share it with others as long as they credit me as the author, but others can't change it in any way or use it commercially.
(Larry Cafiero is one of the founders of the Lindependence Project and has just started developing software in his new home office. Watch this space.)

Categories:

Bodhi Linux, Debian, Fluxbox, Jeff Hoogland, OpenSUSE, Salix, Wolvix
Bodhi Linux, Debian, Fluxbox, GNU/Linux, linux, OpenSUSE, Salix, Wolvix
Yes, I know LinuxCon has come and gone, and I think they've got the publicity thing covered, especially with the 20-year thing, the gala party, and with Linus being there and all. The buzz is still going, and that's good. But if you're going to a Linux show, make it the Ohio LinuxFest in September. Bradley Kuhn and Cathy Malmrose are keynoting — along with Jon "maddog" Hall — so you'll not want to miss that (especially Cathy — Go ZaReason!).
Jim Zemlin of the Linux Foundation is not one to mince words. In an article on the Network World website by Julie Bort, Zemlin says that while there is no longer a moral imperative to contribute to open source software — something I will take issue with later — he says the following: On the issue contributing back, "[It's] not the right thing to do because of some moral issue or because we say you should do it. It's because you are an idiot if you don't. You're an idiot because the whole reason you're using open source is to collectively share in development and collectively maintain the software. Let me tell you, maintaining your own version of Linux ain't cheap, and it ain't easy."
Veiled or unveiled, this has been interpreted — as outlined later in the article — as a swipe at Canonical/Ubnutu and their much-documented lack of technical contributions back to the Linux kernel and FOSS. Incidentally, Zemlin also makes the point that he's not calling out Canonical with this quote: "Just to be clear, Canonical staff, engineers, management are not idiots. They get open source well and as they grow, I think it will be in their business interests to give back," Zemlin said.
We're not going to go there today, either, except to say this: Canonical/Ubuntu has done an outstanding job in marketing Ubuntu, and there has never been an argument that they have done most for getting Linux in people's hands.
While I agree with Zemlin on non-contributors being idiots, the issue I have with him is this quote on the "moral issue" of contributing back. He seems to think is no longer important, and in another quote he says: "It doesn't matter. I don't care if anyone contributes back." He may be talking about businesses here, but it's unclear. For the sake of argument, let's say he's not talking about businesses — just in case — and that he doesn't care if anyone contributes back.
That's going to be a bit of a problem. On an ethical and moral plane, there is always an obligation to give back something for getting something.
At the risk of being branded a communist, Karl Marx comes into play here: "From each according to their ability, to each according to their need."
Everyone who uses Linux and FOSS gets from each "according to their need," and conversely everyone who uses Linux and FOSS should contribute back "according to their ability." While the Linux kernel is the domain of programmers, and they seem to be covered in this regard, there are thousands of other ways to help out in the distros and/or FOSS programs that you use. Distros and FOSS projects can always use help; some of you are already contributing to your chosen distro or software.
If so, thanks.
If not, then why not?
Can't program? Neither can I, which is why I don't contribute in that area — I want distros and FOSS programs to actually work.
Can you put words together to make sense, complete with subject-verb agreement? Help out with documentation.
Artistically inclined? Help out with graphics and design.
Are you a "people person"? Distros like Fedora, OpenSUSE and Ubuntu have ambassador-type communities that promote their distros, and other FOSS programs may have the same kind of programs as well.
Most distros — like Fedora, OpenSUSE, Ubuntu and others — would welcome your help and have things you can do. Same with FOSS programs like LibreOffice. You know what you use, and you can reach them through their Web sites.
The fact is there is a lot to be done and, chances are, you're the one who can help out.
You'd be an idiot not to.
This blog, and all other blogs by Larry the Free Software Guy and Larry Cafiero, are licensed under the Creative Commons Attribution-NonCommercial-NoDerivs CC BY-NC-ND license. In short, this license allows others to download this work and share it with others as long as they credit me as the author, but others can't change it in any way or use it commercially.
(Larry Cafiero is one of the founders of the Lindependence Project and has just started developing software in his new home office. Watch this space.)


Categories:

Fedora, Jim Zemlin, Linux Foundation, OpenSUSE, Ubuntu
Fedora, FOSS, Free/Open Source Software, idiot, Jim Zemlin, LibreOffice, linux, Linux Foundation, OpenSUSE, Ubuntu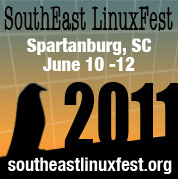 Linux for the GNU South — it's coming up so attend if you can.
Lists: We all make 'em and, judging by what appears on LXer.com, we all read 'em. A great majority of them are worthwhile and informative; others, not so much.
Over the last few months, I've noticed an uptick in the number of "Top $NUMBER List of $VERY_COOL_PROGRAMS" on LXer.com and thought that perhaps a list of the best lists might be helpful to navigate these uncharted waters.
Doing this list David Letterman style, we'll start at 10 and work our way down to the Number 1 Linux list over the last few months. Ready?
10. 8 of the Best Free Astronomy Apps — An excellent list for those into astronomy: What could be better than free star charting apps? Me, I'm all in on KStars. Thank Steven Epps for this — many of the lists you'll find in the ether of the Internet come from him.
9. Fedora 15′s Five Best Features — This review by Steven Vaughan-Nichols should be renamed "Five Good Things about Fedora 15 and a Song of Despair" (with apologies to Pablo Neruda), since he starts out by bemoaning (rightfully) the shortcomings of GNOME 3, and then following up with a list of five good things about the release.
8. 31 Great Tutorials for Inkscape — You might as well call this the Baskin Robbins of Inkscape tutorials, and the Unixmen, who normally have some good tutorials on hand, give us a veritable ice cream store of knowledge on this great software.
7. 7 of the Best Free Linux GPS Tools — Another list from Steve Epps. A program can be found here to let you know where you're going and where you've been.
6. Five Must Have GNOME Shell Extensions — If you're running Fedora 15 with GNOME 3, this list will come in handy.
5. 5 things I like in Ubuntu 11.04 (Unity) and 10 things which I don't — Dark Duck likes and dislikes several things about Natty Narwhal, and the interesting perspective here is that some of the likes and dislikes are the same.
4. 9 Good CD and DVD Burning Tools for Ubuntu/Linux — While these aren't necessarily soley Ubuntu tools, it provides a good list.
3. Top 6 Quicklists for Ubuntu 11.04 Natty to Enhance Unity Launcher Functionality — … and if you said that all in one breath, you get a prize. Manuel Jose seems to be on top of all things Ubuntu, and he gets a prize for providing adequate alternatives for Unity users.
2. 7.5 Reasons to Look Forward to Fedora 15 — Joe "Zonker" Brockmeier adds a list of things that, at the time, were coming up in the now-released Fedora 15, and the half-point goes to . . . nope, no spoiler alert here.
Which brings us to the top Linux list of the past few months, brought to you by LXer.com:
1. 70 Open Source Replacements for Small Business Software — In a word: Damn.
Got an item I missed? Pass it on.
(Larry Cafiero is one of the founders of the Lindependence Project and has just started developing software in his new home office. Watch this space.)